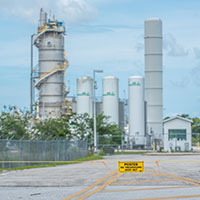 Major setback in deal for troubled INEOS bio plant
STORY BY LISA ZAHNER

The green energy firm that has been working for nearly two years to purchase the defunct INEOS bio plant west of Vero has rescinded its last offer and is in the process of renegotiating a price, based upon costly discoveries made during on-site inspections of the property.
The good news, said Alliance BioEnergy CEO Daniel de Liege, is that he hasn't found any major environmental contamination that would require cleanup before the plant is converted to Alliance's cellulosic ethanol production process. "It doesn't appear [that there is a problem] . . . there was a Phase 1 environmental done in May," de Liege said. "But the piles of feedstock sitting there are deteriorating badly; it's just sitting there rotting away."
De Liege hoped to have the conversion well underway if not completed by the end of 2017 so he could begin turning those piles of yard waste into ethanol.  But with the delays, he says the material being stockpiled on the site will be of no value to him by the time he takes ownership. "At this point all timelines are off the table," he said.
For years, Indian River County complained that biofuel company INEOS was too secretive about its activities, its progress, and what was actually happening at the plant it opened here with tens of millions in federal, state and local subsidies.
De Liege said that same cloak-and-dagger attitude caused the problems he's now having with the sale. "They should have just disclosed a lot more," he said.
What caused de Liege to reduce what he's willing to pay for the plant and surrounding acreage is not simple to explain, he said.
"We finished our due diligence at the end of October, and we uncovered a few things that were not disclosed," including the fact that a permit on a deep-injection well was set to expire on Nov. 5. The ethanol process Alliance uses does not produce waste that would need to be shot down the well, but the well adds value to the property because de Liege could lease its use to someone who does need it.
"We relied on an engineering firm called Harris Group" for due diligence," de Liege said. "They were on the ground for about a month on the site working with the people who were there. We spent well over six figures [surveying the plant and property]. We couldn't take a chance on anything that was hidden, considering INEOS and their secretiveness."
That team of engineers found that the equipment at the plant, which ceased most activity in 2014, is not in tip-top shape, and what is working is not ready to be permitted because of a lack of documentation of regulatory compliance.
De Liege said some equipment that was supposed to be useful is not, and there is missing paperwork on all the major components that will have to be redone. "It's just going to cost us a lot more [than we thought]."
Where do things stand?
De Liege said he sent a new offer to the bank but has not heard back yet, and that he updated County Commissioner Tim Zorc on the status of the deal last week because Alliance's agreement to start accepting the yard waste or "feedstock" that's not needed for cover at the Indian River County Landfill has expired and will need to be renewed.
Last July, when the U.S. Department of Agriculture approved Alliance's offer to buy INEOS' monumentally unsuccessful ethanol operation, it looked like Indian River County was finally going to be free of problems related to the defunct biofuel plant. It does not look that way now.