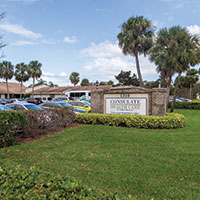 Negligence suits piling up against Vero nursing home
STORY BY BETH WALTON

Severe skin infection. Malnourishment. Poor hygiene. Wrongful death. All charges made against Consulate Health Care of Vero Beach, a 159-bed nursing home on 37th Street.
The large nursing and rehabilitation facility diagonally across from the hospital has been sued for some type of negligence 23 times in Indian River County Circuit Court since 2008.  Eighteen of the suits involved allegations arising from patient deaths. Twelve of the 23 suits ended in confidential settlements.
The most recent complaint was filed in May by the family of Lewis Reich. The lawsuit alleges Reich died after developing decubitus ulcers, or bed sores, pneumonia and sepsis while in the nursing home.
The family isn't alone in their grief-stricken fight for legal recourse. Five cases like Reich's are still being litigated.
Both an attorney and the general manager at the Vero Beach facility did not respond to requests for information about conditions at the nursing home. A spokesperson for the Maitland, Florida, parent company also declined comment. In court filings for Reich's case, the company has claimed no wrongdoing.
Charges against Consulate Health Care of Vero Beach are especially troubling since the local facility is part of a national chain of senior care services. The Consulate Health Care brand is the largest of its kind in Florida and the sixth-largest provider in the United States.
It claims to have a strong focus on patient needs, marketing its care facilities as places where staff members treat patients like family "not because it's their job, but because it's their calling." But court filings, federal evaluations and state records call into question the Vero Beach facility's quality of care.
Nursing homes certified by Medicare and Medicaid are inspected by the federal government each year. A star rating is then assigned based on the three most recent reviews.
Consulate Health Care of Vero Beach received just one out of five stars in its most recent health inspection from the U.S. government, and it is graded below average overall, designated as a two-star facility.
Licensed nurses there spend just one hour and 24 minutes per resident per day as compared to a Florida average of one hour and 46 minutes. 
Investigative reports from 2017 show the nursing home violated a patient's privacy, failed to properly assess medication regimes, didn't disclose allegations of abuse, and used improper hygiene practices which could result in the spread of infection.
Further, hazardous chemicals were accessible to one resident, wheelchairs and other facilities were found to be broken or poorly maintained, and the call bells in some rooms were malfunctioning, making it difficult for residents to seek emergency help.
In one instance a surveyor saw that a door to a resident's room was left open while he was going to the bathroom. People in the adjacent common area could see the man on the toilet and a staff member standing nearby with a disposable brief. The woman later told investigators that she didn't close the door because she "was in a hurry."
Another time, evaluators note, a patient was given antipsychotic medication after acting out, yet records didn't indicate the woman received a psychiatric consultation. "There was no evidence that the resident was exhibiting inappropriate behaviors to justify antipsychotic medication," evaluators noted.
Documents also show during a third visit that a surveyor overheard a resident say she wanted to report that she had been tied up for three hours the previous night. The nurse then allegedly responded in a soft voice that she wished someone would tie her up so she wouldn't have to work with crazy old women.
"The nurse's comments were audible to this surveyor," the evaluator notes. "The nurse did not ask the resident if she was injured and/or conduct an assessment at that time."
The employee later explained she told the patient her allegations were untrue. She said that particular resident made faulty claims of abuse frequently. She was then informed that all allegations must be reported, even if the complainant suffers from dementia or some other mental illness.
The parent company of the local franchise also has problems. A federal judge in March ordered the Consulate Health Care chain to pay $331 million for fraudulently coding Medicare claims for patient therapy services. The whistle-blower case came after a registered nurse who worked for the company in Florida brought allegations to officials.
Attorney Scott Fischer, who represents Reich's family in its lawsuit, declined to talk specifically about the Vero Beach facility, but said in general the nursing home industry in Florida has problems.
Facilities lack competent employees and staffing standards set by the state are far too low, he said.
Rarely will care providers have more staff on the payroll than is required by law, explained Fischer. "Nursing homes are simply a business and the idea is for the business to make as much profit as possible," he said. "They are not designed to do what they purport to do, which is provide compassionate care for aging people."
The bulk of nursing home negligence deals with three main violations of a patient's rights, said attorney Spencer Kuvin with the Law Offices of Craig Goldenfarb who has challenged Consulate Health Care of Vero Beach in court.
Residents who can no longer move on their own tend to develop severe skin ulcers, like bed sores, when they aren't turned and repositioned regularly, he said. If this goes unnoticed and untreated, the skin can become so infected and damaged that a patient's muscle tissue or bone becomes exposed.
Kuvin said in some instances an ulcer has grown to the size of a fist. If proper care is being given, there is no reason for this condition to exist, he said.
Falls are also frequent in nursing care as patients begin to lose their sense of balance, said Kuvin. Facilities sometimes fail to properly assess a patient's physical ability and then put them in risky environments. 
General malnourishment and mistreatment is also common in nursing care facilities. Sometimes, a patient will be unable to feed themselves, but staff will leave a food tray in the room without staying behind to help them eat.
Facilities will often argue that things like skin infection, broken bones and weight loss are a part of the natural aging and dying process, and they blame the resident, claiming, for example, the client refused to move or would not eat, the attorney said. But, Florida law provides patients with a right to receive adequate and appropriate healthcare in a courteous, fair and dignified fashion, free from mental and physical abuse.
"Other than children, this is the one group of society that can't really care for themselves and they are wholly dependent on the care of others," said Kuvin.
"The key is to make sure the facilities charged with caring for our parents and our grandparents are doing the right thing and taking care of our older generations, not just forgetting about them and letting them fall apart based on neglect and negligence."