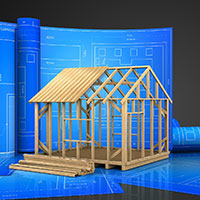 Sticker shock on mainland from new home prices
STORY BY RAY MCNULTY

Island buyers are used to homes priced at half a million dollars or more, but mainland buyers are now seeing those kinds of prices too.
If you're wondering how high new-home prices have gone around town, take a drive to the western – particularly the southwestern – sector of the Vero Beach area.
And be prepared for sticker shock.
You'll find new homes selling from $400,000 to $600,000 in gated communities under construction west of 43rd Avenue.
"I know people would like to see lower-cost housing, but it's getting harder to do that," said Bill Handler, president of GHO Homes, the county's most prolific builder. "We're trying to provide homes for people in a variety of price ranges, but it's difficult to find the $200,000s.
"The $300,000s has become the norm," he added. "The $400,000s is the next tier up."
And the $500,000s?
Those homes are available, too, as are a few priced at $600,000 and up – all of them loaded with options and upgrades, most of them built on oversized and/or waterfront lots.
Many of the higher-priced, west-of-43rd homes are being built and sold in GHO's Lake Sapphire (mid-$400s to $500s), Four Lakes (mid-$300s to low $400s) and Berkley Square (mid-$300 to mid-$400s) communities.
Those are base prices that don't include some desired options and, in many cases, the cost of the lots.
There's currently a spec home selling for $533,000 at Lake Sapphire, located on Fifth Street Southwest. Homes have sold for more than $600,000 at Four Lakes, located on 13th Street Southwest, south of Oslo Road.
GHO is building homes with base prices that reach the mid-to-high $300,000s in the Summer Lake, Eagle Trace Estates, Huntington Place, Ashley Lakes South, and Lake Mandarin at Citrus Springs communities. All are located west of 43rd Avenue.
The builder also is selling homes for under $300,000 in several of those communities, but those houses are usually smaller, with fewer upgrades and on smaller lots.
"The prices now are even higher than they were during the building boom in 2004 and 2005, but a lot of that was driven by the easy financing and people spending money they didn't have," said Phil Matson, staff director for the county's Metropolitan Planning Organization.
"Now, they've got the money," he added. "The economy has turned around and people up north or down south are able to sell their homes for a lot of money and buy here at a lower price point. So the demand that disappeared during the recession is there again.
"But I've talked to developers and land owners, and they told me the cost of producing a home has gone way up, too."
Chuck Mechling, a local real estate development consultant, said rising land values, stricter building codes and, more recently, increased competition for construction sub-contractors have driven up the cost of developing lots and building houses in the county.
Those costs get passed along to the home buyers.
"If you add $10,000 to the cost of developing a lot, that's going to be included in the price of the home," Mechling said. "And every time you increase the cost to the consumer – even if it's only $5,000 or $10,000 – you take someone out of the market.
"That said, there are people who want these higher-priced, energy-efficient, new homes with impact-glass windows and larger lots, and they're willing to pay for them," he continued. "The builders in those subdivisions are just giving those people what they want.
"Still, we need to be very conscious of our costs and be careful that we don't go too far with our pricing," he added. "It's one thing to build high-end homes that people want, but we don't want to get to a point where we're an elitist community, where a lot of people can't afford to buy a new house."
Mechling is consulting at Harmony Reserve, the 55-and-over community under construction on 33rd Street, west of 58th Avenue, where Holiday Builders and Maronda Homes are building houses at base prices ranging from the low $200s to the mid-$300s.
Three Holiday spec homes, however, are selling for $418,000, $400,000 and $378,000. Two Maronda specs are selling for $400,000 and $370,000.
Boosting those prices are Harmony Reserve's amenities, which include a 13,000-square-foot clubhouse, swimming pool, pickleball complex and bocce lawn. In fact, every buyer pays a one-time $7,000 fee to cover the cost of the clubhouse, though Holiday includes that cost in the price of its homes.
"Obviously, there's a market for these upper-end homes and communities on the mainland," said Stan Boling, the county's community development director. "We've got people coming down from up north. We've got people coming up from South Florida. Housing prices in both places are a lot higher than they are here, especially on the mainland, so they're willing and able to pay them.
"Whatever pent-up demand there was during the recession, people are now acting on it," he added, "and they have the means to do so."
Mechling said some prospective buyers also are coming from the barrier island, where some homeowners have retired or become empty-nesters and want to downsize to a maintenance-free community.
West of 43rd Avenue.
"That's obviously where land is available, and Bill Handler knows and understands the market here," Mechling said. "GHO builds a wide variety of homes, but Bill had the vision to see that, even when downsizing, some people still want a custom-style home large enough for when the kids come back to visit.
"And, as we're seeing, they're willing to pay for it."