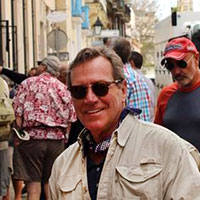 Vero visitor to Cuba ponders symptoms similar to diplomats
STORY BY MICHELLE GENZ
Photo: Island resident Scott Morton.

Island resident and Merrill Lynch financial adviser Scott Morton is trying to figure out if the persistent numbness in his legs and feet he has suffered since visiting Cuba last year is related to the mysterious attacks on U.S. embassy personal that injured two dozen people stationed in the island nation.
First reported in August, the embassy-related victims' complaints of hearing loss, brain injury and other symptoms date back to the fall of 2016.
Some who fell ill early on described hearing a piercing cricket-like noise outside their residences. After extensive investigation, U.S. officials believe a sonic device may have caused the illnesses. The Cuban government denies any involvement; some believe other foreign actors could be involved.
According to Associated Press reports, three dozen additional U.S. citizens have contacted the AP about symptoms they think may be related to the Embassy illnesses.
After reading an AP article published Oct. 19 that details a Charleston man who visited Cuba suffering from numbness similar to his, Morton got in touch with AP reporter Josh Lederman, who is covering the recent spate of mystery illnesses, to compare his symptoms to those others have reported.
The Charleston man, Chris Allen, was stricken during a 2014 stay at Havana's Hotel Capri, the same hotel where Embassy victims had lived, and his symptoms were eerily similar to Morton's
"It got my attention, hell yeah," Morton says of the article.
According to the AP, Allen had extreme numbness in all his limbs, but only in his bed at the Capri. When the same thing happened the next night, only worse, he caught the first flight out the next morning. His symptoms continued for six months and he spent thousands on tests that were inconclusive.
Morton's ordeal began when he was returning to his hotel in Playa Girón, a resort town on the Bay of Pigs.
Halfway back to the hotel after drinks with his companions from Vero, Morton's left leg buckled underneath him. "My leg just went away, like it wasn't there. There was no pain. I just couldn't get up."
Camille Yates, then development director of the Environmental Learning Center, which had organized the trip, saw Morton lying in the field and grabbed a bartender and rushed to help him. "They got me back to my hotel somehow," says Morton.
The next morning, Morton's leg was fine, and stayed fine for the rest of the trip.
But his difficulties weren't over.
Eight weeks later, back home in Vero, Morton got up one morning to go to work. Or tried to.
"Both my legs were sound asleep, from hips to toes," he recalls. "It was the oddest thing – you know they're there, you can see your legs. You just can't feel them. I thought, well, they've just got to be asleep."
Morton swung his leaden limbs over the side of the bed. Getting dressed for work proved the first in a string of challenges that have yet to end. "You could lock your bones and hold on to the wall and kind of bend your leg into a pair of pants," he recalls.
He managed the short drive from his south island home to the Merrill Lynch office on Beachland Blvd., where he has worked, apart from a brief break, since 1979.
But after an hour at his desk, the feeling in his legs had not returned. "That's when I freaked out."
Morton headed for Indian River Medical Center, and gave the triage nurse his symptoms. There was no fever, no nausea, no pain – "never has been," he says – just the numbness in both legs.
After he was admitted to the hospital, Dr. Taher Husainy, a longtime Vero neurologist, ran a battery of tests on Morton, including MRI's, blood work and a lumbar puncture – the dreaded spinal tap. On one MRI, there was a small white spot doctors thought might be myelitis, an infection or inflammation in the spinal cord that can cause sensory loss. The spot was gone in a follow-up a month later, even though symptoms continued.
Everything else came back normal. No multiple sclerosis, no Lyme disease, no paralysis – he could push his foot against the doctor's hand, and bend back his toes. Just no sensation in either leg.
"All I found out was 300 things I didn't have."
Two days later, unable to walk without great difficulty, Morton left IRMC. At Husainy's suggestion, he headed for Johns Hopkins Hospital, known for its neurological center. Morton's daughter Emily traveled with him to "push my little butt up the brick streets" of Baltimore in a wheelchair. One week later, they were no further along with a diagnosis. Morton and his daughter came home. A visit to the University of Miami was similarly frustrating.
"Still nothing," says Morton. "It's just really annoying at this point."
Lederman, reached by phone, cited AP policy not to comment on developing stories or sources.
In early October, he shared an AP byline on a story reporting that intelligence operatives were "among the first and most severely affected victims," of the Embassy-related attacks.
Morton, who says he has no ties to the CIA, has not suffered from hearing loss or headache. 
Over time, his nervous system seems to have adjusted, giving him more mobility. But the numbness never leaves though. Neither does the fatigue.
"Your brain is doing double time, whether you know it or not," he says. "I've never taken a nap before, and it could be 10:30 in the morning and my eyes will slam shut."
Morton takes no medication, but he has tried acupuncture – the only good news there was that he could feel it when the needle went too deep.
"The other night, I stepped on a burning ember. I didn't really notice it. On the other hand, if I step on a rock, I can feel it."
He no longer uses a wheelchair or walker and can now walk slowly on his own, so long as there is something to hold onto.
He can get from a dock onto a boat – "with other people watching," he says. "But I don't want to ever have to climb out of the water and get on. No way could I do that."
 At this point, he is not consumed with finding a cause for his illness, and says he's leaving the research to others. "I've got so many wonderful friends and family, and they can Google all they want," he says.
"If it's going to get better, I'm going to wake up one morning and it's going to be gone."
Until that moment arrives, there is one thing Morton misses more than anything else.
"Travel," he says, without hesitation.