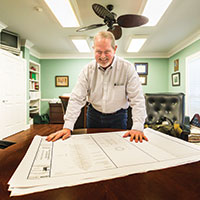 Work finally set to begin on cell tower in Shores
STORY BY LISA ZAHNER
Photo: Indian River Shores Town Manager Robert Stabe looks over the plans for the new cell tower.

Work was scheduled to begin this week on the long-awaited cellular phone tower at the Indian River Shores Town Complex.
Tower contractor Datapath has all required approvals in hand and the Shores has issued all necessary building permits to begin moving ground and pouring the concrete foundation for the project.
Engineers reviewed structural plans with Town Manager Robbie Stabe on Monday.
"It should take no more than nine weeks to erect the tower, and no more than six weeks for the provider to get everything working," said an optimistic Stabe.
That timing means the tower would be carrying voice and data traffic by Valentine's Day.
Verizon has signed on to provide service from the tower, and at least one more "major provider" is in the works, though the town cannot release the name until an agreement is executed.
The Town Council had wanted at least Verizon – the provider for town public safety phones and on-board police computers – and AT&T on board to serve Shores' residents and visitors when the tower goes into operation. The 115-foot-tall structure, which will be camouflaged as a massive pine tree, has the capacity to hold the equipment of five providers in total.
The so-called "monopine" tower will be built on the northwestern portion of the town complex, with the main pole going up after the concrete slab cures; the fiberglass "branches" will be attached after the main pole is securely installed. The equipment will be fenced in and landscaped in accordance with town building code.
No additional approvals by the council are needed to begin construction, as all ordinance changes and variances have already been made or granted, according to previous statements by Stabe and Building Official Jose Guanch.
The closest cell towers to the Shores are a flagpole stealth tower at Sea Oaks to the north and a tower atop the spire Village Spires condominiums on Ocean Drive in Vero Beach to the south.