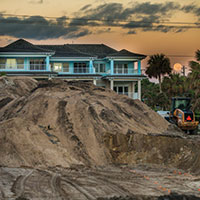 Work underway on luxury Conn Beach oceanfront condos
STORY BY STEVEN M. THOMAS
Photo: Excavation has begun for pilings for 4091 Ocean condo project.

Developer Yane Zana isn't wasting any time getting work underway at his luxury condominium project known as 4091 Ocean.
The day after he got his permit from the Florida Department of Environmental Protection, a bulldozer was moving dirt at the site on Ocean Drive, across from Conn Beach Boardwalk, and a few days later 40-foot-deep foundation piling holes were being augured out and filled with concrete and steel.
Zana, a St. Ed's graduate who has lived on the island for more than 30 years and developed a number of large projects here, needed three permits to build the condo: a stamped site plan from the City of Vero Beach, a building permit from the county and the FDEP permit, required because the building is classified as oceanfront.
With those in place and two units sold, the developer hopes to complete the condominium – which will have either five or six units – in about 14 months.
"January 2019 is our goal," Zana says. "We have two contracts in place with nonrefundable 20 percent deposits and are working with a couple of other prospects. I think we will have another one or two under contract by the end of the month."
Wendy Wilson, the broker who is handling sales for Zana, says one of the units was sold during the summer and the other went under contract at the end of September.
In the most likely scenario, the building will have six 3-bedroom, 3.5-bath, 3,331-square foot units, with two on each floor and parking under the building. All will have large, ocean-facing balconies and luxury finishes that include limestone flooring and gourmet kitchens with marble or quartzite counters and solid wood cabinetry.
In the six-unit configuration, there will be three units with identical floorplans stacked on top of each other on each side of the building. The units on the north side are No. 202, at grade level, No. 302 on the next level, and No. 402 on the top or penthouse level.
Wilson says 202 and 302 are the units under contract, which leaves the north penthouse and the three south units for sale at pre-construction prices ranging from $1.4 million for the remaining ground-floor condo to $1.9 million for the penthouses.
In an alternate scenario, Zana is offering the entire top floor as an ultra-luxe 6,600-square-foot penthouse for "under $4 million."
Wilson says the configuration that gets built will depend on which buyer steps up first. If someone signs a contract for one of the 3,331-square-foot penthouses, that will settle it. If a buyer for the full-floor penthouse shows up first, that is what Zana will build.
Either way, project amenities will include an elevator, a lap pool and "an oversized aqua spa," according to promotional literature.
Zana bought the .67-acre property at Conn Way and Ocean Drive for $1.9 million in October 2016, according to county property records. The purchase included two vacant buildings, one facing Ocean Drive that formerly housed Boardwalk Café & Ice Cream Shop, and a storm-damaged building facing Conn Way.
The buildings were torn down in March but it took another seven months to get all permits needed to commence construction.
"The agencies we dealt with were all cooperative and worked well with us, but developing a multi-family oceanfront property is a complex process," Zana says.
Wilson says people who have contacted her about the condos have been a 50-50 mix of locals and out-of-towners, but both people who have signed contracts are from Vero.
So far, all the serious potential buyers have been interested in the condos as primary residences, a surprise to Wilson and Zana, who expected some vacation home buyers.
"With the building coming out of the ground and people back in town for the season, I think we will end up seeing some of those second-home buyers," Wilson says. "There has been great interest and with two sold pre-construction, I don't think it will take long to sell out."
4091 Ocean is being developed by 4091 Ocean LLC, an entity associated with Coastmark Development, where Zana is managing director. Coastmark Construction, an associated company, is the general building contractor.