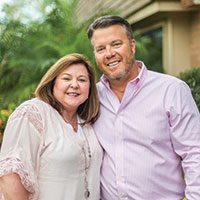 Year after son died, Joe Graves prays for Christmas miracle
STORY BY RAY MCNULTY

Nearly a year after his 15-year-old son died in a boating accident in the Indian River Lagoon, Joe Graves is praying for what he believes would be a Christmas miracle.
Two new daughters.
The Vero Beach attorney and his wife, Carole, have been trying since May to adopt two school-age sisters from Colombia, only to see their efforts stalled by government bureaucracy.
So Graves has turned to social media in hopes of reaching someone with the political clout to answer his prayer.
In a heart-tugging, six-minute video he posted last week on his Facebook page, Graves said he has been praying for weeks that "God grant a way for the right governmental official to get involved and make it possible so these girls can come and be home with us for Christmas."
Graves said the international adoption is "locked up" in an immigration system in which it is "not possible" to bring the girls to the United States in time for the holidays.
He said he has contacted Florida Congressman Brian Mast and appealed in writing to both U.S. Senator Marco Rubio and President Donald Trump. As of last weekend, Graves said, he had not received a response from anyone in the government.
"We're trying to do everything the right way," he said. "You're saying this is the way things ought to be done, and you want to curb illegal immigration. Well, help us do it the right way. Give these beautiful girls a chance at life."
How did Graves and his wife go from mourning the tragic loss of their son, Jimmy, last December to pursuing with passion the adoption of two Colombian sisters – one is 12, the other is soon to be 14 – only six months later?
Reached by phone last week, Graves said he and his wife are still heartbroken over their son's death.
"What happened to Jimmy, we'll never stop grieving for him, and grief is difficult," he explained. "When something like that happens, the world just doesn't make sense. Eleven months ago, I never thought I'd be where I am now.
"But as we worked through the pain and the feelings of loss, as we continued to pray, God laid it on our hearts to parent again . . . to adopt."
The Graves have two daughters, but Emily, 26, and Sara, 21, no longer live full-time at home. So when Jimmy died, the family's house – along with everything else in their lives – felt jarringly different.
Graves said in the video that he and his wife were enjoying their son's adolescence when, "all of a sudden, in a flick of a switch, we went from parents of a teenager to empty-nesters."
On the phone, he said, "We just weren't ready to be empty-nesters. We love kids."
Graves said he and his wife first explored traditional adoption avenues, but, "after sitting through a few meetings," they decided to consider other options.
That's when they discovered All God's Children International, which, on its website, describes itself as "more than an adoption agency" and, instead, an "orphan care ministry" that works with government officials "around the world to help keep children within families and out of institutions."
That's how they learned of the plight of the two sisters in Colombia, where, Graves said, the girls will "age out" of the country's foster-care system when they turn 16 and then have "no place to go."
He said the girls' father is in prison, their mother is "gone" and the whereabouts of their nine siblings is unknown – that these sisters have only each other as a family.
"They deserve a home; they deserve to have two parents that love them," Graves said in his video. "We have a lot of love to give them. We want to give them our love. We want to give them our home. We want to give them opportunity. We just need our government to help us make it happen."
He believes the process doesn't need to be so difficult and protracted, especially when he's trying to adopt children nobody seems to want.
"There's not much of a demand for kids in the older age group," Graves said. "Everybody wants an infant."
Another family expressed interest in adopting the younger girl – only the younger girl – but she didn't want to be separated from her sister and decided to remain in foster care.
"We didn't really know where the adoption journey was going to take us, but we soon found out there was high demand for infants and low demand for older kids and kids that have siblings," Graves said, adding, "There's not enough people to house all these kids, so our hearts went out.
"We didn't want these young girls to have no future in Colombia and be set out on the streets."
Engaged with the international bureaucracy for the past six months – he calls it a "broken process" – Graves said he and his family have undergone the required "home study" interviews, as well as psychological evaluations and background checks.
They've also received the necessary social, psychological and medical records of the girls they want to adopt.
"We have a really good understanding of their history and their situation," Graves said. "All we're waiting for now is for the Immigration Service to give us the approval and let the girls into the country."
He said the girls would be eligible for citizenship after two years as members of his family.
Though he hasn't yet met the girls, Graves said they know about his family's desire to adopt them. In fact, the sisters have sent videos introducing themselves and saying, "We want to meet you."
The feeling is mutual.
And for those wondering: Graves said the decision to adopt the girls was not an "emotional reaction" to their son's death. It's a way to honor Jimmy's legacy of standing up for people who need help.
"If he were here and we asked him if we should do this, he'd wonder why we even needed to ask that question," Graves said, adding that he and his wife also discussed their adoption plans with their daughters.
"It was a family decision," he said.
Now it's up to the government.