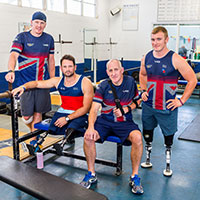 British paralympic athletes train (and are feted) in Vero
STORY BY RAY MCNULTY
Photo: British paralympic athletes Simon Allanson, Steve Arnold, Terry Ahrens, and Scott Neehagh.

Visiting Vero Beach for a few days of sunshine and relaxation after two of them competed in Canada in the 2017 Invictus Games for wounded and disabled war veterans, three British Paralympic athletes and their coach were shopping in the Publix at Miracle Mile when an island woman heard one of them speaking.
"My mother noticed the accent and immediately started a conversation," Louise Kennedy explained.
That's how the four men – two who lost their legs in combat, one who lost the use of his left arm in a cycling accident, and a British Army sergeant serving as their cross-country skiing coach – wound up spending a rainy Tuesday night last week dining at the Riomar Bay II home of Dr. Alastair Kennedy and his wife, Marion.
The Kennedys' daughter, Louise, was there, too; she's the head of the English department at St. Edward's School and arranged for the Brits to use the St. Ed's weight room to train while here.
She also took the first-time Vero Beach visitors to their first-ever pep rally and American high school football game – both were part of St. Edward's Homecoming festivities last Friday – then introduced them to the Walking Tree Brewery.
"They loved it," Louise Kennedy said. "We had a great night at the game and then the brewery. Lots of laughter ..."
All three of the British competitors are former soldiers and now full-time athletes supported by Help For Heroes – a charity similar to the Wounded Warriors Project in the U.S. – and Britain's Ministry of Defense.
Members of the British Armed Forces Para-Snowsport Team, based at the Scottish Institute of Sport and training primarily in England and Germany, they are preparing for a World Cup season running from November to March.
They also hope to qualify for the 2018 Paralympic Games in PyeongChang, South Korea, in March.
"These boys do some amazing things," said Simon Allanson, a British Army sergeant who coaches the three cross-country skiers.
Steve Arnold, 38, was a staff sergeant in the British Army's bomb disposal unit serving in Afghanistan in 2011 when a bomb detonated and blew off both of his legs.
He now walks with the use of prostheses, but he has no regrets.
"I'd do it again," the Englishman said.
So would Scott Meenagh, 28, a former rugby player who joined the British Army in 2009, became a paratrooper and rose to the rank of lance corporal before he, too, lost both legs in Afghanistan in 2011.
He said he was on a "routine patrol" when an improvised explosive device (IED) went off.
"Every now and then, I think about what happened and how it changed my life," said Meenagh, whose Scottish accent caught Marion Kennedy's ear in Publix. "But if you ask me now if I would go back, the answer is no.
"The people I've met, the experiences I've had in sport, the life I have now ... These things happen for a reason," he added. "You don't know how strong you can be until it's forced on you."
Getting past the loss of his legs wasn't easy, but his involvement with sports – he spent two years on Great Britain's Paralympic rowing team before moving to Nordic skiing – helped the transition.
"After it happened, it took me about a year to start over," Meenagh said. "You have to own your injury and accept what your new life is going to look like. Sometimes, you have to hit rock-bottom first, but you have to find a reason to get out of bed every day. That's where sport had a massive impact on me.
"Sports gives you a chance to redefine yourself," he added. "It gives you a why in life. It gave me a chance to prove what I was capable of – that I wasn't just a guy who lost his legs. So I'm in this for the long haul.
The Brits said they're enjoying their time in Vero Beach – they're staying in an apartment owned by the parents of a Help For Heroes supervisor – and hope to come back someday.
"The people we've met here have been very nice, especially Louise and her mom and dad," Allanson said.
"You never know who you're going to meet at the supermarket."