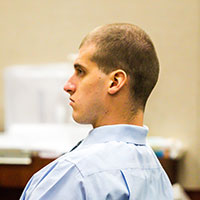 Driver gets 11 years for fatal Jungle Trail crash
STORY BY BETH WALTON

Just minutes after Zackary Hillegass was cut from his overturned SUV after it crashed on the Jungle Trail, police say he took responsibility for his actions. Standing on the dirt road surveying the wreckage, he admitted to drinking and driving. He said it was all his fault.
But in the courtroom on Oct. 11 – a year and half after his friend and backseat passenger died from injuries sustained in the February 2016 crash – the 24-year-old Melbourne Beach resident pleaded not guilty to felony charges of vehicular homicide and vehicular manslaughter while driving under the influence.
The historic road, often used by island pedestrians, bikers and off-roading enthusiasts for recreation, has poorly marked speed limits and is dangerous for motorists, Assistant Public Defender Dorothy Naumann argued on his behalf.
The deceased passenger was not wearing a seatbelt and was likely drunk at the time of the crash, she said.
The attorney's pleas for leniency didn't work. It took the jury just one hour to convict Hillegass on all charges related to the crash. Facing a maximum of 15 years behind bars, he was sentenced by Circuit Court Judge Cynthia Cox to 11.5 years in prison and 3.5 years of probation.
In addition to some $177,000 in court fees and fines, Hillegass' driver's license was permanently suspended. He was ordered to attend alcoholic support meetings upon his release and a class for people who drive under the influence. He also must complete 60 hours of community service – some of which must include speaking to high school students about the dangers of drunk driving.
September Jacobson, the victim's aunt, cried as she spoke during the sentencing hearing. She showed the judge photos of her nephew, Donovan Clements, and said his death tore her family apart. Clements, who was 46 years old at the time of the crash, was in a coma for nearly two months, she said. He never woke up.
Clements also had drinking problems, but he was on his way to get help, Jacobson told the judge. "Instead of going to the treatment center, he went on a joy ride with his friend."
"There is not a day that I don't miss him."
During the two-day trial, Deputy Michael Ruiz, then an officer with the Indian River County Sheriff's Department, said Hillegass admitted wrongdoing shortly after investigators arrived at the scene. "This is all my fault, I shouldn't have been drinking," he was overheard saying. "I was driving the car. Dammit man, (expletive)."
Clements, also of Brevard County, was trapped in the backseat. Blood was pouring out of his mouth. Empty cans of Bud Light, Rolling Rock and Natural Ice beer were scattered throughout the car. The scent of alcohol was overwhelming.
A third passenger, Matthew Wright, 39, stood shocked nearby. "I can't believe this," authorities say Wright told investigators at the scene. "He was driving too fast. I told him not to drive so fast."
Wright was not located by the State's Attorney's Office in time to testify at the trial. Instead, a host of law-enforcement officers were called to speak on the state's behalf.
The three had been barreling down the winding dirt road at speeds estimated to be as high as 50 mph, said Florida Highway Patrol Corporal T.B. White. The vehicle spun out of control, hit a tree, and landed, flipped on its side, near a large, murky puddle.
The speed limit on the Jungle Trail is 30 mph with a suggested rate of 15 mph on its sharp curves.
The car narrowly missed hitting an island family enjoying the roadway in their golf cart. Summerplace resident Michael Hoover, 45, testified he and his wife were travelling on the Jungle Trail with two toddlers, a 5-year-old girl and a dog when they say they saw the SUV heading their direction.
The family's oldest child and their lab mix had been running alongside the cart, and the parents quickly got everyone strapped in and pulled to the side of the road. There had been a lot of rain, and a large puddle had formed near a sharp corner.
The driver momentarily slowed down before speeding toward the water, the commercial pilot recalled. "The vehicle sped up so fast that it couldn't have gone any faster," he explained. "The vehicle drove into the puddle to splash us."
Hillegass declined to testify during court proceedings, but a recorded interview between him and White was played for the jury.
Two months after the crash and just weeks after his friend's death, Hillegass told the traffic homicide investigator that he didn't remember driving on the Jungle Trail that day, that he suffered a head injury in the crash and spent two and a half days in the hospital.
He said he doesn't like to drink and drive and didn't think they had been drinking that afternoon. He said he likely had some alcohol the night before.
The three were traveling to Wabasso to pick up their friend from work. When he wasn't ready to leave, they decided to head back north so Clements could make it to his job in time. Sometime that afternoon, they stopped at a convenience store to buy beer.
Hillegass, convicted on a felony burglary charge when he was 18-years-old, was on probation at the time of the crash.  The alcohol found in his system the night of accident amounted to his third probation violation, said Assistant State Attorney Michelle McCarter.
He previously failed a drug test and had been in trouble for public intoxication, she said. "This defendant had many chances," McCarter told Judge Cox at sentencing. "He needs to face the consequences of his actions."
Standing at his public defender's side, Hillegass blinked back tears as he told the judge he was sorry just moments before his sentencing. He said he comes from a family of alcoholics, that he is trying to better himself and has been attending Alcoholics Anonymous in jail.
His attorney said she encouraged the jury trial. She saw no reason for him to come to the court with a guilty plea when there was no offer for a mitigated sentence.  She said the arguments she made during the trial were not an indication that Hillegass wasn't taking responsibility for what has happened.
Hillegass told the judge that the pain of killing Clements lives with him every day. "A piece of me disappeared when he disappeared and I'm the one that did it," he said.  "Whatever I get here I do deserve, but he was a very, very close friend to me and I really made a very bad choice and I regret everything that happened."