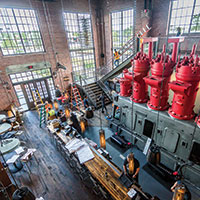 Hulk of old power plant becomes stunning brewery
STORY BY MICHELLE GENZ

The raising of pints to Michael Rechter as American Icon Brewery opened for business this week in Vero's historic old diesel power plant is a testament to the ambitious Fort Lauderdale developer who calls Vero his second home.
Rechter's grand-scale vision, his good taste and his pockets, deep enough to fund the $6 million redo with cash, have powered a project that could prove to be as transformative to the Vero downtown as the addition of two luxury hotels was to the beachside business district in 2008.
The once-decrepit cavernous 12,000-square-foot brick shell is now a stunningly designed dining and drinking destination on eastbound S.R. 60, the main downtown thoroughfare.
It was Rechter who two years ago signed on to build out the hulking red brick structure that for 90 years has been a hallmark of Vero beach's downtown and for the last 30, a blemish on its revival. Built in 1926 as Vero's first municipal building, it was added to the National Register of Historic Places in 1999, even though its only occupants were hoards of pigeons in its rafters.
It took Rechter, whose belief in Vero commercial real estate has done much to revitalize a sizable chunk of Vero's U.S. 1 corridor, to see the potential in the historic downtown – and have the wherewithal to fund such an undertaking by himself.
As Rechter's brewery bubbled to life this week, the hopes for downtown were soaring again.
With a capacity for several thousand guests each month and a seven-day-a-week staff of 80, the brewery could spew out much-needed foot traffic through downtown galleries, shops and restaurants.
That economic shot-in-the-arm started Tuesday, when one of 17 taps in the shape of the torch on the Statue of Liberty was pulled for American Icon's first paid-for pint. The taps are ingeniously tucked into the face of a huge decades-old diesel-powered generator that now serves as the backdrop for the bar.
Gutted, scrubbed and painted red and black – its historic colors – the generator has been fitted with underground pipes running from seven 30-barrel fermentation tanks at the southwest corner of the building. The huge engine is the lone remaining generator of five that once produced the electricity for the town of Vero Beach.
Rechter first toured the plant a decade ago, just as he began buying up commercial buildings in Vero Beach. When it finally became available for purchase from the city last year, disentangled from a nasty lawsuit that arose after a failed development attempt, Rechter scrambled.
He put together an impressive proposal for the brewery, which he then viewed as a $1.6 million project. His proposal was far more detailed than two others put before the city, one for an artisan distillery, and the other for an arts center.
Of the three, only Rechter's included an option to assume all issues of diesel contamination, problems he believes are at the brink of clearing up after recent tests showed the chemical contaminants had dissipated. (Three such tests are required before the property gets the all-clear.)
Rechter bought the property for $500,000 in June 2016. Multiple architects were involved in the design for the brewery. The interior was left to Asheville, N.C.-based Alchemy Design Studio. Rechter chose the firm's owner, Traci Kearns, for her work with Asheville's nationally-known Wicked Weed Brewery. It was Rechter's favorite of the dozens he visited across the country.
Kearns, who has worked in Finland and Asia, created a clean-lined, industrial-themed design for the plant. It leaves the towering century-old red brick walls exposed, with interior walls painted in carbon gray or faced with overlapping shards of wood. Two walls are papered in a blow-up of a vintage aerial photograph, overlaid with historic images of the plant's interior.
The re-do includes a spectacular mezzanine seating area, bordered by a steel railing and open to the brewery area's gleaming stainless tanks below. A dumb-waiter will carry food and drinks to upstairs patrons, including those using a 25-seat private meeting room fitted with audio-visual equipment.
To access the second level, guests can climb a dramatic steel staircase illuminated by a huge light fixture custom made by an Asheville artisan. Or for a bird's-eye view of downtown, they can ride a north-facing glass elevator.
Just beyond the elevator is a merchandise room, with American Icon-branded T-shirts, hats, and other merchandise, a reminder that the plant is expected to draw plenty of tourists.
At the same time, the form and function of the diesel plant makeover remains true to small-town Vero: informal and multi-generational, accessible to blue-collar and blue blooded alike.
Three brews were ready for the soft open Tuesday; by the weekend there should be five, including a porter. Within a few months, all 18 beers will flow at $5 to $7 a pint, along with affordable wine by the glass. The menu offers amped-up bar food like maple-sambal duck wings, Vietnamese pho, and short-rib sliders.
The food component is being managed by Ken Dodd, food and beverage manager of Rechter's Integra Hospitality, which owns Vero Bowl and Stix Billiard Club in Majestic Plaza. Rechter owns that plaza as well as Indian River Plaza next door.
 While the sound system, stylish design and menu will doubtless expand the cool factor of the downtown restaurant scene, Rechter will quickly remind you that American Icon's focus is the beer. Locally he will compete with Walking Tree Brewery near the airport; Sailfish Brewery in Fort Pierce, and to a lesser degree, the small Orchid Island Brewing on the beach. But Rechter's goal is much broader – he hopes his brand will go statewide, at minimum.
For that, he hired Alex Postelnek, former lead brewer at Fort Lauderdale's Funky Buddha Brewery, often counted among the top in Florida. Postelnek, who has been living in Vero since August, advised Rechter on everything from layout and equipment to the "ridiculously expensive" chemical-resistant floor tiles in the brewing area.
Overseeing the beer-making and recipes is Jesse Robles, former head brewer at Florida Beer Company, a very large contract beer operation in Cape Canaveral. Both Postelnek and Robles trained at Siebel Institute in Chicago. 
The seven fermentation tanks and 15-barrel brewhouse leave room for a canning or bottling line down the road. In the meantime, the newly poured loading dock will allow trucks to load kegs of beer to deliver to Rechter's American Icon Fort Lauderdale location – a gastropub with liquor license but no brewing facilities – opening soonAs Rechter gave a tour of the Vero brewery bustling with last-minute preparations, he was interrupted by a team of fire inspectors. "Congratulations," called out one in the team of men passing through the beer room wide-eyed. "You passed."