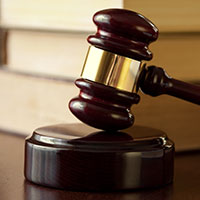 Judge rules out key evidence in 'pill mill' case
STORY BY BETH WALTON

Judge Cynthia Cox has suppressed key evidence in three high-profile "pill mill" cases in Indian River County, putting in doubt prosecutors' ability to convict defendants – who they say ran a statewide criminal organization – of drug trafficking, money laundering and racketeering.
Prosecutors and law enforcement have long maintained that fraudulent pain management clinics, including the now closed Stuart Pain Management Center in Vero Beach, broke the law by prescribing excessive and unnecessary pain killers. Patients from as far away as the Midwest traveled to Florida for easy access to drugs like Oxycodone, while culpable doctors and other healthcare professionals made millions of dollars off their growing addiction and pain, prosecutors say.
But the cases against three participants in what has been called "Florida's pill mill epidemic" were put on hold Sept. 19 after Cox ruled that a detective with the Indian River County Sheriff's Office acted illegally when obtaining search warrants for residences outside of his jurisdiction. 
In 2011, Detective Eric Flowers legally obtained a warrant for a phone tap in Indian River County that yielded information about pain clinic activities in other counties throughout the state. He then went to judges in those counties to get search warrants for residences that were outside of Indian River County, in areas where he was not an officer of the law.
Lawyers for the accused claimed that Flowers had no authority to secure warrants outside his own jurisdiction and that evidence obtained using the warrants should be inadmissible, and Judge Cox agreed.
Defense attorneys were correct in their allegations that Flowers "illegally went outside of his Indian River County jurisdiction, 'under the color of [his IRSCO] office' to obtain search warrants to gather evidence from residences in Broward and Palm Beach Counties," Cox wrote in her order, which impacts three cases being tried in Indian River County – one of which includes a defendant whom police say was the ringleader of the statewide criminal enterprise.
No evidence was presented that Det. Flowers was a sworn officer statewide, in Broward or Palm Beach counties, or that he solicited those jurisdictions' help in obtaining warrants, the judge wrote. "Search warrant applications would not have been available to an ordinary citizen."
In court the day before Cox's ruling, defense attorneys pointed to case law which explains that officers may investigate and gather evidence outside their jurisdiction, but only in a manner similar to that of a private citizen. Flowers used his position with the sheriff's office to influence judges in other localities where he had no right to so, they said.
He told judges he was a detective.  He revealed details of a year-long, sealed wiretap – information only law-enforcement could access. Had he not presented himself to the judges as an officer of the law, it is unlikely the warrants would have been obtained, they said.
"He has no authority to conduct an investigation outside of his jurisdiction without obtaining any assistance from that locality or that jurisdiction," argued Vero Beach defense attorney Andrew Metcalf. "That's the case law ... You can't just go outside of your jurisdiction and effectuate investigations and arrests."
While Cox's ruling was specific to the three Indian River County cases before her, there are a number of other defendants who will likely file similar motions if the decision is upheld, Metcalf said after the hearing. "This was something that happened on way more than one occasion," he explained. "A great deal of evidence will be suppressed."
An affirmative ruling won't make the charges against the defendants go away, but limiting the allowable evidence will put in question the strength of the state's case, said Fort Lauderdale defense attorney Daniel Aaronson. "I don't think these were pill mills," he said. "I think these were pain management clinics run by reputable doctors."
Assistant Statewide Prosecutor Priscilla Prado tried unsuccessfully to counter Metcalf's and other's arguments at a July 27 hearing. Flowers was part of a statewide investigation that began inside his jurisdiction, she said. His job on the team was to listen to the wire and track warrants. He did not execute any of the warrants. He remained at home while local law enforcement and the DEA searched the homes in other counties.
"The clinic that began this whole investigation is in Vero Beach," Prado told the judge. Flowers had been "tasked with the job by the group to go and get the search warrants done all over the State of Florida. And he did. He went to all the different counties of the state."
Indian River County Sheriff's Office embarked on a year-long investigation into the Stuart Pain Management Center in Vero Beach in 2011. Those efforts led to the expanded investigation targeting a complex web of doctors and clinics that extended from Miami to Pensacola and resulted in 14 high-profile arrests in 2012.
Among those arrested were Lewis Stouffer, 37, of Coconut Creek; Clark Jeffrey Thompson, 38, of Pompano; and Craig Turturo, 38, of Boca Raton. All three men lived outside of Indian River County at the time their homes were searched using warrants filed by Flowers. All have posted bond and are now awaiting trial. Charges include racketeering, money laundering and delivery of a controlled substance.
Stouffer was "the organizational leader of the drug trafficking, money laundering and racketeering organization," Flowers alleges in court filings.  Thompson, Turturo and others were "lieutenants" designated to operate pain clinics, distribute pills for profit and grow the organization, he said. Together, the men conspired to launder funds through gambling, tax evasion, worker's compensation fraud and racketeering.
"Basically, this organization has blanketed the State of Florida with their 'franchise' clinics in an effort to attract pill seekers from all corners of the state and beyond," according to Flowers. Some 2 million oxycodone tablets allegedly were distributed in a single year. The clinic in Vero Beach was one of this largest with some 644,000 pills scripted by a physician there.
Judge Cox granted the defense motion to suppress the warrant-related evidence on July 28. On Sept. 19, at the request of the attorneys involved, she approved a stay in some of the proceedings until the Fourth District Court of Appeals reviews her ruling, which is being appealed by Prado.
Though present at the July hearing, Flowers was not called to testify. The lawman, who joined the Indian River County Sheriff's Office in 2003 and once served as an undercover agent, has since risen in the ranks from detective to major and now serves as the agency's main spokesman.
Flowers was recently accepted into a prestigious training program with the FBI National Academy in Quantico, Virginia, and did not respond to a request for comment while on professional leave.
The Indian River County Sheriff's Office and the Office of Statewide Prosecution also declined to respond to inquiries about the ongoing investigation.