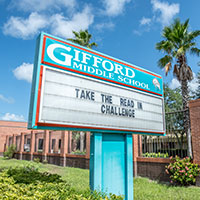 Man accused of trying to kidnap boy from school is committed
STORY BY BETH WALTON

A stranger accused of trying to kidnap a 14-year-old student from the campus of Gifford Middle School last August was released from jail Sept. 26 but committed to a mental health facility.
Records from the Aug. 25, 2016, incident allege Nikromuh Koondo was caught trying to snatch a young boy from the school at 45th Street and 25th Court where many island children attend middle school. A teacher and school resource officer managed to thwart the potential kidnapping.
The boy and his friends told police they were walking toward the Indian River County GoLine bus when a strange man wearing no shoes started following them and smiling in their direction. The child felt uncomfortable so he moved to the back of the crowd to distance himself from the stranger. He told his friends to let the man pass, according to arrest affidavits filed with the court.
"The male then begins to run after the juvenile and grab for him," writes John Clark with the Indian River County Sheriff's Department. Koondo was saying he was there to get his kid and pointing at the boy. But, the child had never seen the man before, Clark wrote in a Aug. 25, 2016, affidavit. 
"The child ran away and his friends called a teacher who told the suspect to leave."
As the children ran toward a school resource officer who had responded to the scene, the man then fled toward 45th Street, the court documents note. The school's deputy then chased the suspect off school grounds.
Another deputy driving near the area heard the school resource officer's call for help over the radio. He saw a man wearing no shoes near the 3000 block of 45th Street and told him to stop running and get on the ground. Koondo ignored the command and a foot chase ensued.
The patrol officer was able to apprehend Koondo, who had no identification on him and gave officers fake names. A rapid ID fingerprint test allowed them to identify him.
The man, who had been running barefoot on hot pavement, asked for shoes before telling deputies that "someone took his kid and he was trying to get his kid back," according to court records. 
Officers allege he then said that Beyoncé was the mother of his child and she works at the jail.
A detective then pointed out that Koondo, thought to be 22 at the time, was unlikely to have a 14-year-old child. Koondo then responded he became a father when he was in fifth grade, court documents state.
The child's mother later reviewed video of the incident and confirmed the man was a stranger to the family.
Indian River County School District declined to comment on this story. It is unknown how the suspect was able to get entry to the school grounds.
When school gets out and parents arrive to pick up their children, teachers work hard to make sure everyone gets in the right car, said Sgt. Ross Partee, who supervises Indian River County Sheriff's Office School Resource Officer Program. If they see something abnormal, they can radio the school resource officer for help.
Partee was not at Gifford Middle School at the time of the alleged attempted kidnapping, but heard about it from his colleagues. This case is a prime example of why it's good to have an officer on campus ready to react immediately, he said.
If administrators had to call 911, they would have to wait for law enforcement to arrive, Partee said. "A deputy is not always going to be just around the corner. Sometimes, they could be a mile or two away."
There are 11 school resource officers in Indian River County, Partee said. Every middle and high school has a regular law enforcement presence and officers start engaging with elementary kids in the fifth grade for DARE, Drug Abuse Resistance Education.
The school resource officers receive training from the Florida Attorney General's Office and work in several ways to keep schools safe, Partee said. "Our backbone is campus security, but beyond that our goal is mentorship – to mentor the kids, build relationships, try to be positive role models for them. Everybody comes from a different background and not all the kids have positive role models in their lives."
School resource officers do things like break up fights and respond when drugs or weapons are found campus, he said. If a student commits a misdemeanor offense, the responding officer is encouraged to take advantage of a circuit court civil citation program, which allows the child probation and avoids any permanent blemish on their record.
"These kids are young and they don't always make good decisions," he said. "We were all young once. We all made stupid decisions. We don't want to mess up the rest of their lives."
Indian River County Judge Cynthia Cox found Koondo incompetent to stand trial last month after he was evaluated by a court-appointed psychologist. 
Koondo refuses to speak to jail staff, mental-health professionals or his attorney, she writes in the Sept. 15 order.  He does not appear to understand the adversary nature of the legal process or to be capable of working cooperatively with his attorney.
"He exhibits strange behavior and makes odd sounds," she writes. "The defendant is unlikely to manifest appropriate courtroom behavior given his current mental state and unpredictable behavior."
Koondo was ordered to the custody of the Florida Department of Children and Families. There, he will be placed in a secure mental-health treatment program until further review.