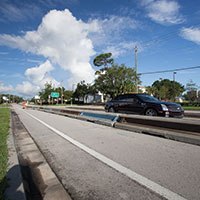 State adding 7-foot-wide bike lanes on 17th Street
STORY BY RUSTY CARTER
Photo: Bike lane expansion on 17th Street.

If you have been wondering what is going on along 17th Street between the Alma Lee Loy Bridge and U.S. 1, where heavy concrete barriers have been lined up reducing the number of traffic lanes, here is the answer: The Florida Department of Transportation is widening the roadway to add bike lanes.
The work, which will result in 7-foot-wide bike lanes in each direction along that three-quarter-of-a-mile stretch, began in mid-August, and is expected to be completed in fall 2018.
The budget for the roadwork, initially bid at $1.6 million, has since nearly doubled to $3.06 million
Kathleen Dempsey, speaking for project engineers The Corradino Group, explained the increase.
"Initially this was solely a milling and resurfacing project," Dempsey wrote in an email. "Then the project scope changed to include widening to accommodate bike lanes. The widening required installation of new drainage structures, a new mast arm, and additional asphalt and concrete."
The impetus for the larger project can be traced back to the county's Metropolitan Planning Organization.
Adding bike lanes to local roads is a priority for Phillip Matson, director of the Metropolitan Planning Organization. He noted that as the county re-paves roads, bike lanes will be added wherever feasible.
Indian River County currently offers fewer than 100 miles of bike lanes. The longest single stretch is along A1A on the barrier island.