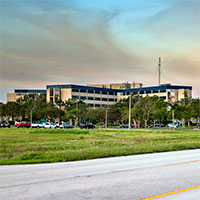 Top hospitals among Indian River's suitors
STORY BY RUSTY CARTER

Owners of some of the top hospitals in the state – including Shands, Florida Hospital Orlando, and Cleveland Clinic – are represented among the dozen suitors who have expressed preliminary interest in partnering with the Indian River Medical Center. 
The parent companies of three of the closest hospitals to IRMC – Sebastian River, Lawnwood in Fort Pierce and Holmes in Melbourne – also have stepped forward.
The identities of the health systems that have signed up were made public Oct. 18, heightening speculation about whether Indian River will stick to its previously pledged preference to remain nonprofit, or affiliate with a for-profit system.
Seven of the expressions of interest submitted thus far come from nonprofit health systems. The other five are from for-profit operations. The deadline to submit proposals is Nov. 10. Up to six finalists will be chosen the following week.
Finalizing an agreement that will enable the hospital to survive and thrive is likely a year away – and that's if the process goes smoothly.  Indian River needs a well-capitalized partner of some kind to overcome recent financial losses and remain competitive in a changing healthcare environment.
So far, leadership at IRMC has been steadfast in wanting to remain nonprofit, a position endorsed by both the publicly elected Hospital District Board, which owns the hospital buildings, and the 17-member Board of Directors, which is in charge of hospital operations.
Still, when asked whether IRMC would give serious consideration to a for-profit health system, Hospital District Trustee Allen Jones suggested the door to that possibility is open.
"A for-profit might make us an offer we can't refuse," Jones said.
No matter which health system is chosen, IRMC likely faces some serious belt-tightening. Over the last two fiscal years the hospital has lost $4 million on operations and a key factor in any partnership is an infusion of cash.
IRMC is looking for approximately $185 million, which it plans to use on remodeling patient rooms, a new outpatient surgery center, new technology and upgrades in its physical plant.
As for potential partners, two sources told 32963 earlier this week that Health First, one of the nonprofit entities, appears to be a strong contender. Health First has four hospitals in neighboring Brevard County, among them Holmes Regional Medical Center in Melbourne.
Here's a glance at each of the systems vying for a partnership with Indian River Medical Center.
Nonprofit
Adventist Health System – This faith-based system has 46 facilities spread among nine states, a majority of them in Florida. These include the highly regarded Florida Hospital Orlando, one of the most comprehensive hospitals in the region.
Cleveland Clinic Health System – This offshoot of the world-renowned Cleveland Clinic has eight facilities in Florida, including a major hospital in Weston.
University of Florida Health – This medical network includes Shands Hospital, one of Florida's leading academic medical centers.
Health First – Has four hospitals in Brevard County, among them Holmes, which is a level II trauma center.
Orlando Health – More than 100 facilities spread across the center of the state, including the highly regarded Orlando Regional Medical Center and the Arnold Palmer Hospital for Children.
Martin Health System – Has roughly 70 facilities, including Martin Memorial Hospital in Stuart.
Trinity Health – A Catholic healthcare system, it has a number of hospitals in Central and South Florida.
For-Profit
Duke LifePoint Healthcare – IRMC already has an affiliation with the Duke University Health System through its Welsh Heart Center and Scully-Welsh Cancer Center. However, Duke LifePoint's for-profit status goes against Indian River's nonprofit preference.
HCA Healthcare – Nashville-based HCA is one of the country's largest healthcare providers. It has 46 hospitals across Florida including Lawnwood Regional Medical Center in Fort Pierce, a level II trauma center.
RCCH Healthcare Partners – 16 facilities spread among 13 states, with no presence in Florida.
Steward Health Care System – 36 hospitals across 10 states. Three in Florida that it acquired a few months ago as part of a rapid expansion: Sebastian River Medical Center in Sebastian, and Wuestoff Medical Center in Rockledge and Melbourne.
Universal Health Services – Another huge health system. Twenty facilities in Florida alone. More than 100 nationwide, plus Puerto Rico and U.S. Virgin Islands.