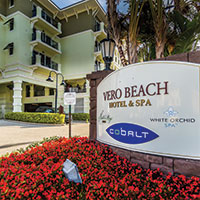 Vero mayor comes up with new idea for getting city a share of 'bed tax'
STORY BY LISA ZAHNER
Photo: Island hotels are major source of 'bed tax' revenue.

For at least seven years, Vero Beach officials have complained about the way money raised by the tourism and hotel tax – or "bed tax," as it is commonly known – is distributed by Indian River County and spent by the Tourist Development Council.
Five former Vero mayors and vice mayors have asked the county for a share of revenue raised from the 4 percent tax levied on lodging, arguing that more than 60 percent of the nearly $900,000 taken in last year was collected from hotels, motels and other lodging within city limits, most of it on the island.
As it is, the city gets no money back from the county to spend on its own tourism priorities and, adding insult to injury, it has only has one seat on the nine-member Tourism Development Commission that decides how bed tax money is spent.
Now, Mayor Laura Moss has come up with a novel approach to tapping into this revenue source. She has suggested that the tax be raised from 4 percent to 5 percent with the additional money raised going to Vero.
Moss said she did not think an additional one percent tax on hotel bills would dampen tourism.
In theory, her plan could take a load off City of Vero Beach taxpayers without carving funds out of the hide of the agencies that currently benefit from bed-tax dollars. Currently, the Indian River County Chamber of Commerce receives more than a half-million dollars annually from bed-tax money to fund countywide tourism promotion efforts, of which it shares $94,000 with the Sebastian River Area Chamber.
"We need to be aware of where this money is going." Moss said. "$100,000 to Sebastian, really?"
The Treasure Coast Sports Commission receives nearly $200,000 in bed-tax money. The Cultural Council of Indian River County receives $60,000, the Vero Heritage Center gets $30,000 and the Indian River County Historical Society gets $20,000. One percent of the funds go to debt service on Historic Dodgertown, a county-owned facility.
City Manager Jim O'Connor said he and Moss requested an executive-level meeting in late August with County Administrator Jason Brown. Commission Chairman Joe Flescher also attended the meeting.
"We just wanted to let them know that the city has priorities on the island and that they're directly related to tourism," O'Connor said. "We're not talking about money to pave roads or do anything like that. There's a need for a new lifeguard stand at Humiston Park, and this year we'll spend $150,000 to $200,000 on emergency dune repairs and we spent more than that last year."
Chad Olson, General Manager of Costa d'Este resort on Ocean Drive, came from a luxury property in San Francisco, where the tourism and hotel tax totals 15 percent.
"I support it," he said of the 1 percent increase in the bed tax to fund Vero's priorities on the island. "In California, when there were tax increases temporarily to pay for the convention center, or permanently, there was never an effect [on the number of tourists].
"Is there anything else you can think of that you pay for that hasn't gone up since 2001?" Olson added.
Moss asked for some documentation showing the dollars collected and expended, and how much comes from – and goes to – the City of Vero Beach.
Brown sent Moss the information on Aug. 24, along with a cover letter saying, "I understand your determination to ensure that the City taxpayers are receiving substantial benefits from the expenditure of these dollars. I hope we provided the information you needed to alleviate the City's concerns regarding the distribution of the Tourist Development Tax revenues.
The data that came back only reinforced the concerns Moss had about Vero not getting its share of benefit from the bed tax.
"I have no beef with the Indian River County Chamber of Commerce," she said during last week's evening council meeting. "I think they do a lovely job." But she doesn't think the City of Vero Beach should shoulder the main burden of funding tourism promotion for the entire county.
"I think the county should chip in for this," she said.
Much of the money goes to place ads in regional, national and international media and to bring travel writers or travel agents into town on junkets. "Remember we have a parking problem. I'm not sure we need to be doing all this advertising," Moss said, adding that the major hotel properties on Ocean Drive do their own marketing independent of the Chamber.
O'Connor said county officials have had very preliminary discussions about increasing the bed tax from 4 percent to 5 percent, but those discussions presumably involved using the additional revenue – $200,000 or more per year – for things on the county's own wish list. Moss' proposal that the county share the wealth with Vero is new.
The Board of County Commissioners would have to approve the increase, and not just by a three-vote majority.
By Florida law, "The governing board of the county may levy, impose, and set an additional 1 percent of each dollar above the tax rate ... [only] by the extraordinary vote of the governing board," which means at least 4 commissioners in favor, or by a referendum.
Hotel developer Keith Kite, who serves on the Tourist Development Council, said he did not think voters would support the increase.
"In conservative Indian River County, I don't think a referendum to increase the tourist tax would fly. And I don't think it would solve the problem," Kite said, calling talk of increasing the bed tax or sharing dollars with Vero "really premature."
Indian River first imposed a bed tax in 1987. The tax rate started out at 2 percent; it was increased to 3 percent in 1993 and to 4 percent in 2001.
Florida's coastal counties mostly charge a bed tax of 4 to 5 percent, according to the Florida Department of Revenue.
The state's rural, inland counties typically have a bed tax of zero to 2 percent. Among the highest in the state are Volusia, Osceola, Orange, Duval and Miami-Dade counties at 6 percent. Some municipal areas like Miami Beach impose their own tourist tax just within the city limits as a special district.
Moss said she would bring the matter up after the first of the year, before the deadline to petition the county for funding in the 2018-2019 fiscal year budget which starts Oct. 1, 2018.
"We had a good meeting; it was cordial and I think they understand our concerns," Moss said of the two-hour session with top county officials. "The county, I think, will work with us on it, and they know we'll be back.
"I view, in a way, the current distribution as a violation of the city's home rule. The city in effect, it becomes a cash cow to be slaughtered and served up to meet the ever-growing needs of those outside the city."