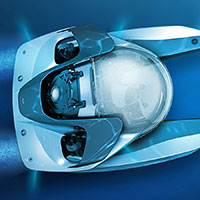 Vero's Triton, Aston Martin teaming up on supersub
STORY BY RUSTY CARTER

Aston Martin, best known for the iconic cars featured in a number of the James Bond films, may soon add submarines built in Vero Beach to its portfolio of high-performance luxury autos and stunning speedboats.
Talks are underway between the British auto maker and Triton Submarines, which manufactures multimillion-dollar recreational submersibles, to team up for "Project Neptune" – a code name which itself sounds like something right out of a Bond movie.
Aston Martin announced the collaboration on Sept. 28, posting an image of a sleek proposed $4 million sub on its website.
"A contract hasn't been signed," said Michael Haley, Triton's U.S. director of sales and marketing. "But I think it will happen."  The potentially lucrative deal brings together two companies that have one major thing in common: both cater to a customer base with money to spend. Lots of money.
"These are not for people who have a yacht," Haley explained during a tour of Triton's facility just off Interstate 95 in Vero Beach. "They are for people who have two yachts – one for traveling and the other for hauling their toys."
"Project Neptune marries Triton's diving and operational expertise with Aston Martin's design, materials, and craftsmanship," the announcement states. "Aston Martin Executive Vice President and Chief Creative Officer Marek Reichman and his team have ... [created] a vehicle with inherently beautiful proportions."
The 5.9-foot-high, 8,800-pound submarine will be the lightest and smallest three-person sub in the world, capable of descending to depths of 1,650 feet and slipping through the seas at 3.5 mph (three knots). Of course, it will be air-conditioned.
The new submersible will be "defined by its sleek, elegant exterior,' says Reichman, 'we have used forms and proportions that express the same devotion to design, engineering and beauty that shape our cars.'"
Aston Martin's foray into submersibles comes almost exactly a year after it ventured into the marine industry with its first powerboat, the AM37. Aston Martin partnered with Quintessence Yachts for that project, much like it is expected to do with Triton.
Submersibles don't come cheap. Triton's regular one-person model goes for about $1.85 million. The company's most popular version is a 3-man sub that sells for $3.3 million. And there's also a deep-dive submersible that can go 36,000 feet below the surface – roughly 7 miles. That model sells for a little more than $6 million.
Those are base prices, by the way. Among the extras available are a manipulator arm to pick up objects on the ocean floor, sonar and a navigation system that automatically communicates with the ship above.
Getting your hands on a Triton submersible requires patience as well as lots of money. Build time is about one year. Triton's record for annual production is just four submersibles.
The lengthy build time is in part due to quality control. During construction, the clear acrylic globe in each submersible is shipped to San Antonio, Texas for testing. Water pressure one and a half times the craft's maximum is applied, then the globe is examined for cracks or evidence of stress.
Triton has been around since 2008. Its primary product is personal submarines that are yacht-based. Many of the company's roughly two dozen U.S. employees previously worked at Harbor Branch, the oceanographic institute in Fort Pierce now operated by Florida Atlantic University, where some of the world's first submersibles were built and deployed for deep sea research decades ago. 
"The whole concept is observation," Haley explained. "You go down to take a look. Navy submarines don't have portholes because they're not for looking around. They are made for getting from point A to point B and then firing off something."
Triton's concept of submersibles has morphed over the years.
"We started off making two-man subs, sort of like a Ferrari," Haley said. "It turns out that was the wrong model. You want to drive the Ferrari yourself, not be chauffeured, but most wealthy people who own yachts don't actually drive them. They have a crew. They also want someone to drive the submersible.  
"A 3-man sub works because you can have your girlfriend or grandson or your significant other with you, along with the driver. That was our sweet spot."
You can also stay submerged for up to 12 hours. "That's longer than your bladder will last," Haley deadpanned. He also noted an occasion when a group of Japanese scientists took one of Triton's submersibles for a long trip. "They brought Depends."
Triton continues to evolve. Its 1650 model holds three people, but its observation dome is made with 4-inch-thick acrylic rather than 6-inch acrylic, which reduces the weight.
Haley noted that the company recently came up with a 7-person design. It's not intended for private sales. In fact, the target customer is cruise ships.
"There's more and more adventure-based tourism," Haley explained. "Going up the fjords, even the Amazon maybe.
"We've had several conversations with high-end companies that have talked about making a super-luxury, super-expensive submersible," Haley added.
Back to the Aston Martin deal, Triton President Patrick Lahey said the British car brand "represents a deeply held passion for technology, engineering and timeless, elegant design. From our first interaction, it was apparent that Triton and Aston Martin were natural partners and our complimentary values will be realized in this truly exciting project."
"Aston Martin knows how to make a car, and make it look cool," Haley continued. "They don't know how to make a submarine. We do. They'll make it look cool."
While several actors portraying James Bond have driven Aston Martins, including the famed DB5, in the 007 films, ironically the auto steered by Roger Moore that converted into a submersible in the movie "The Spy Who Loved Me" was a Lotus.
That Lotus Espirit was bought at an auction in London in 2013 for $1 million by billionaire tech entrepreneur Elon Musk, owner of Tesla Motors.
"It was amazing as a little kid in South Africa to watch James Bond ... drive his Lotus Esprit off a pier, press a button and have it transform into a submarine underwater," said Musk in a statement. "I was disappointed to learn that it can't actually transform. What I'm going to do is upgrade it with a Tesla electric powertrain and try to make it transform for real."
While that still hasn't happened, it raises a key question. Any chance a Triton-Aston Martin submersible could show up in a future 007 movie?
Haley, after a brief pause, said: "Talk to me in January."