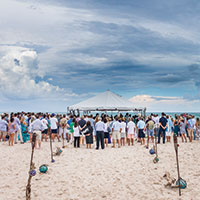 200 attend South Beach memorial for Ryan Marcil
STORY BY RAY MCNULTY
Photo: South Beach memorial for Ryan Marcil.

Under dark, threatening skies and with winds whipping off the ocean, more than 200 family members and friends gathered under and around a large tent Saturday at South Beach Park to remember Ryan Marcil, the 2009 St. Edward's School graduate who was killed in a mountain-climbing accident Aug. 20 in Colorado.
"Ryan wouldn't want us to be sad," Marcil's father, Roger, said during the 90-minute celebration of his son's life. "He'd want us to seek our dreams and live our lives to the fullest, just as he did."
Those who attended the casual-dress, seaside event were handed orchid leis to wear and white candles that were lit for the closing, circle-of-love ceremony during which Bob Dylan's "Make You Feel My Love" was performed by a guitar-singer duo.
The walkway to the beach was lined with tiki torches and enlarged photographs of Marcil, who was 26 when he and his girlfriend, Carly Brightwell, fell to their deaths on Capital Peak, a 14,000-foot mountain west of Aspen.
Brightwell's family also attended the memorial, which included a brief biography of Marcil's life, a prayer and a moment of silent reflection before family members and friends were permitted to address the group.
Among those who spoke were Marcil's sister, Alexa, who read a poem titled, "Remember Me." She was followed by uncles, cousins, her brother's childhood friends and a buddy from his alma mater, Bucknell University.
Marcil's paternal grandfather, Roger Sr., urged other grandparents in attendance to spend more time with their grandchildren now.
"I wanted to get to know Ryan better and get closer to him," the elder Marcil said. "I made it a top priority on my bucket list."
He paused to compose himself before adding: "Don't hesitate. Do it as soon as you can. They'll respect you for it, and you'll never regret it."
For most in the crowd, the memorial was the first opportunity to console Roger and Karen Marcil face to face since news of their son's death reached Vero Beach. Both said they appreciated the support their family has received.
"We're still in shock, and we're incredibly sad," Marcil's father said. "But I wouldn't trade having Ryan as a son for 26 years to have any other son for 60 or 80 years."