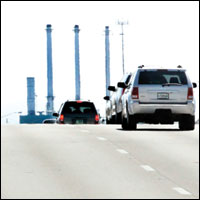 Anti-sale Council faction still seeks to block electric deal
STORY BY LISA ZAHNER

As a massive storm churned toward Florida last week, and residents started to stock up, board up and prepare to evacuate the area, another troubling tempest erupted at the Vero Beach City Council meeting as members debated the sale of the electric utility.
On the Sept. 7 editorial page, Vero Beach 32963 reported that stalwarts of Vero's anti-sale faction were regurgitating old objections to the sale and trying to obfuscate the facts of the current deal with Florida Power & Light that's taken eight years to put in place.
Councilmen Dick Winger and Tony Young last Tuesday night mounted what could be seen as an effort to sidetrack the sale by sending two matters to volunteer advisory committees – often the Siberia of local government.
Winger wanted to ask the Vero's Finance and Utilities commissions to analyze the partial sale of Indian River Shores portion of the electric system and undertake a five-year post-sale analysis of city revenues and expenses.
"I wrote these two things before noon on Wednesday (the deadline to get items on a council agenda) because these are things the commissions asked to do," Winger said.
There will be a clause in the FPL sale agreement that says, should a full sale not be possible, the city could go forward with a partial sale of the Indian River Shores portion of the utility for $30 million, but Winger claims the fair value of the Shores system is $45 million.
"I have a fiduciary responsibility," Winger said, saying he's voted twice against what FPL is offering for the Shores, because $45 million is the "authoritative value."
"I'm not willing to accept an automatic default that I see raising taxes on residents and raising rates on the people in the county," Winger said. "Let them meet and verify the number, or ultimately take out the automatic default."
"I want to vote yes [on the full sale], but you can force me to vote no if you want," Winger said.
Winger, who was backed by Young, found no support from Mayor Laura Moss, Vice Mayor Harry Howle or Councilman Lange Sykes for tossing these issues to the commissions.
"You have never voted yes, never," said Moss. "It's a matter of public record that you voted against the full sale on Feb. 19, 2013 and then you conveniently claimed to support it . . . and then it's also a matter of public record that you voted against it this time on May 16, 2017."
Moss shamed Winger for putting out a statement saying he supported the sale of the electric system after voting against the sale. "This is the kind of thing that totally ruins the faith of the community in the people they elect," she said.
Moss said Winger represents special interests and the Indian River Neighborhood Association. "You vote how you see fit, but you have never voted for the full sale," she told Winger.
Howle said the request for the commissions to rehash the partial sale was nothing but a stall tactic.
"Commissioner Winger, if you don't want to vote . . . [with us], that's fine," said Howle. "We really quite frankly don't need your vote."
Moss then moved to block Winger's effort to have the volunteer committees evaluate the Shores sale, making a motion, "That the Finance and Utilities Commissions shall not meet regarding the partial sale until a time Vero and FPL are not actively pursuing a full sale."
Howle and Sykes voted with Moss and the motion carried.
Moss said she also was opposed to asking the volunteer committees to perform any kind of post-sale financial analysis. "There are members of the commissions that do not have their numbers straight," Moss said. "Apparently it's not just you, Mr. Winger. Members of the commissions do not have their numbers straight."
That vote came down to the same factions, with Winger and Young voting to have the volunteer Finance and Utilities commissions try to forecast what the sale would do to Vero's budget, while the majority of the council voted against that action.
Sykes reminded the council that every day the full sale to FPL is delayed, Vero's 34,000 electric customers pay about $24,000 extra in rates to Vero electric. He also brought up the potentially enormous cost to the city of any catastrophic damage to Vero's transmission, distribution and metering systems and tens of millions in valuable equipment.
"I think that it's ironic timing we have this potential of this major hurricane," Sykes said, then asked City Manager Jim O'Connor who would be responsible for paying untold and potentially crushing costs for repairs to a hurricane-damaged Vero electric system.  O'Connor answered that the City of Vero Beach electric ratepayers would be on the hook.
"But if we were Florida Power & Light customers today and that storm came and destroyed our infrastructure, who would be on the line financially for repairing that?" Sykes asked rhetorically. "The ratepayers of Florida Power and Light," O'Connor said.
"I'm sick of this, I'm sick of the political games," Sykes said.