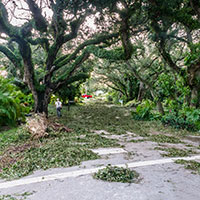 Could have been worse
STORY BY MILTON R. BENJAMIN

Antilles, all eyes here were on the "spaghetti tracks" – computer models that projected where the killer storm would go, and what it would ravage next.
For an agonizing time, only days but it seemed like weeks, it appeared that Vero Beach might be directly in Irma's path.
Shops and businesses closed, workmen feverishly boarded up windows, hotels and restaurants shut down,  and long before Saturday's mandatory evacuation, people began streaming off the island.
By Friday, Ocean Drive in mid-afternoon was deserted – nary a car in sight.
Then the computer models – the European, the UKMET, even the GFS (we got to know all these names during the week) – began showing Irma heading farther west.
By Saturday, it began to appear that while  Vero faced a couple of days of torrential rain and tropical storm force winds, it no longer was facing the destruction of a direct hit by a Category 5 hurricane.
Saturday afternoon, the only drinking and dining spot still open on the island, the Riverside Cafe, was packed by some of the hundreds  who had refused to evacuate, holding an impromptu Key West-style hurricane party.
But by Sunday, the island was totally shut down.  Rain squalls and winds gusting to hurricane strength lashed the area throughout the day and into the night.  Power went out, plunging most island homes into darkness.  A heavy surf brought an angry ocean up and over the dune line, once again eroding the recently replenished sand under the Conn Beach boardwalk.
Then on Monday,  island residents  awoke to sunny skies.  They ventured out of their homes to find Irma's damage largely limited to palm trees and oaks, whose stripped fronds and broken branches littered the streets.
All in all, we were very lucky.