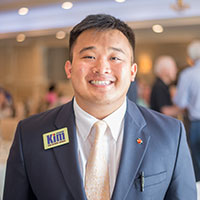 Details of death of John Kim, aspiring politician, remain unclear
STORY BY KATHLEEN SLOAN
Photo: John Kim

It's clear a tragedy occurred with the death of well-liked Vero resident and aspiring politician John Kim, but considerable mystery surrounds the circumstances of how his body came to be found in a subdivision pond in St. Lucie County.
So far, the only document made public by the St. Lucie Sheriff's Office is a missing person's report filed by Kim's aunt, Terri Kim, who lives in Portofino Shores where Kim's body was discovered around 11 a.m. last Tuesday, Sept. 19, a day and half after he went missing.
An autopsy was performed on the 24-year-old man's body the next day, and the Sheriff's Office says "there were no signs of foul play," but the report is not public record yet and it is unknown if drowning was the cause of death. A toxicology report will take about six weeks.
Here is what is known – and unknown – at this time, based on information from the St. Lucie County Sheriff's Office, witnesses and friends of John Kim:
Kim, who ran a credible but unsuccessful campaign for a seat on the Indian River School Board last year, had recently been hired as an assistant manager at the Macy's store at the Indian River Mall, according to Store Manager Greg Page.
He was due to start his new job on Monday, Sept. 18 and apparently was out celebrating on Sunday night, drinking at Filthy's Fine Cocktails & Beer on 16th Street.
There, according to the sheriff's report, Kim "had some type of argument . . . and they called him a cab to take him home."
Brian Price was the driver of the Klub Kar that Filthy's employees called for Kim, according to the missing person's report. Price picked Kim up in Vero and took him to Portofino Shores, where he was living with his aunt and uncle.
The cab arrived at the subdivision, which is located on the Turnpike Feeder Road, a mile south of the Indian River County line, around 1 a.m. on Monday.
"Upon arrival at the gatehouse of Portofino Shores where he lives," states the missing person's report, "while the cab driver was talking to the gate guard, John jumped out of the cab and ran into the neighborhood."
"We're the designated driver serving the area," said Paul McPherson, who owns the Klub Car business. "We picked him up and he was fairly well intoxicated. When they got to Portofino Shore's gate house, he tried to run on the fare. That's why we called 911. [Price] . . . said Kim told the gate guard, 'You handle this,' and then aimed toward the lake." Price and a sheriff's deputy "went to the house address he had given us."
Kim's uncle came to the door and paid the fare, and Klub Kar's part in the case ended there, according to McPherson. He said Price was too distraught to speak to the press.
School Board Member Laura Zorc and her husband, County Commissioner Tim Zorc, were friends of John Kim, and Laura Zorc says the official version of events is mistaken.
According to her, Kim watched a football game with friends on Sunday and then asked them to join him for drinks at Filthy's "to celebrate his new job." Kim's party arrived there about 10 p.m.
Zorc said Angela Novak, who owns Filthy's, told her Kim drank four beers from 10 p.m. to 12:30 a.m. and he was the only person left in the bar.
"There was no argument," Laura Zorc said. She also said Price related a different version of events at the gatehouse to Novak on Monday, while Kim was still missing. Novak did not return a request for comment.
After the deputy and driver came to their door in the early hours of the day Kim was supposed to start his new job, his relatives must have been concerned. On Monday afternoon, the family filed a missing person's report with the St. Lucie Sheriff's Office.
Kim's aunt, Terri Kim, "is worried because he calls her all the time and she thinks he may have fallen into one of the ponds or gotten hurt running in the woods," states the report.
Kim's family called the Zorcs and other family friends to help search for him on Monday evening. About 30 volunteers fanned out around the subdivision, continuing the search until 3:30 a.m. on Tuesday.
The effort resumed after daylight on Tuesday and around 11 a.m., Kim's body was spotted floating in a storm water retention pond.
Laura Zorc thinks Kim drowned in the pond shortly after leaving the cab. "I thought he fell in the pond but I didn't want it to be true. It was so dark out there he could easily have stepped off the sidewalk and slid down the embankment into the pond. It was very slippery and the water was much higher because of the storm."
She said the Kim's family is upset he has been accused of trying to get out of paying his cab fare. "That would be so out of character for him."
The family asked the homeowners' association if they could view security camera tape from the guard house, Zorc said, but were told "not without a search warrant."
"We strongly urge the St. Lucie's Sheriff's Office to get a warrant for the guard house tape," Zorc said. "It's close enough to determine what happened at the guard house and how John fell into the pond.
"I don't want him to be remembered for this bizarre accident. He was a wonderful person. I have never seen a person with more friends – from all walks of life and all ages – from 8 to 80 years old." 
It is unknown if the sheriff's office will seek a warrant to obtain the tape. St. Lucie Sheriff's Detective David Dionisio is in charge of the investigation.  Terri Kim did not return a request for comment.