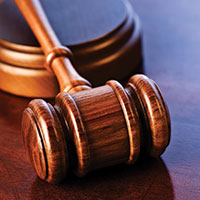 Gruesome murder case to be retried at county courthouse
STORY BY BETH WALTON

It was a Wednesday morning in early December when landscapers called police to report something they had found. The men had been hired to cut the grass at a home in west Gifford but a foul smell kept them from their work.
They followed the scent, something they later told sheriff's deputies was akin to the odor of a dead animal, to a shed near a vacant lot next door. A severely decomposed body lay face up and contorted on the grass.
Dressed in black, the dead man's upper torso pointed east. His feet looked to the west. His skull was on the ground next to him – two feet away at waist level. There was a bullet hole in the back of his head.
The gruesome 2011 murder of Douglas Frasier, Jr. grabbed headlines that year, but the story fell out of the news and little was reported about the fate of Frasier's then 22-year-old acquaintance, Edward Gibson Jr., the man eventually convicted for his death.
That is about to change.
Six years after the murder, and more than three years after Gibson was convicted and sentenced to life in prison, a jury will revisit the violent details of the crime – probably early next year.
The Fourth District Court of Appeals reversed Gibson's April 2014 conviction for murder in the first-degree last year, finding that Judge Robert L. Pegg abused his discretion in denying the defendant's request to testify. 
During the trial, Gibson, who pled not guilty, initially declined to speak on his own behalf, but later changed his mind.
The state and federal constitutions protect a defendant's right to speak on his own behalf, justices with the Fourth District Court of Appeals wrote in their 2016 decision. "Great latitude," the decision says, should be given to "a defendant who wavers in his decision to testify."
While a judge's patience may be taxed, the justices note, it is best for the court to proceed.  "In the interest of finality and the justice system's primary goal of seeking the truth, a presentation of all the evidence should always be encouraged," the decision says.
Court had been in session three days in the spring of 2014 when the judicial miscue occurred. 
According to search warrants filed months after Frasier's death by detectives with the Indian River County Sheriff's Office, Gibson had been publicly bragging about killing his friend. 
In one incident, he was observed purchasing a cigarillo at Mosley's on 26th Avenue chatting with another customer. "I popped him and law enforcement was looking for me," he allegedly said.
Another acquaintance came forward and said he was part of the "blue printing" of the murder. He told police "they were going to make Frasier return the property he stole from Gibson and then they were going to kill him," warrants state.
The men were allegedly in an argument over jewelry obtained during a home robbery.
Gibson, now 28, allegedly called his co-conspirator one weekend and said the plan was ready. The two met, but when Gibson asked the other man to drive, he had second thoughts and backed out of the scheme.
The next day Gibson called and said, "It's done," before hanging up the phone, his friend told the authorities.
The two didn't speak again for several weeks. Later, they saw each other on the street and began talking about Fraiser. Gibson reportedly asked his friend if he had heard anything.  When the other man replied no, "Gibson smiled and laughed and kept on walking," documents filed with the court state.
It was on the second day of the trial when Pegg asked Gibson if he would like to testify. The judge told him that he would have to tell the truth, but that if he opted to stay silent the jury would be instructed not to use that against him.
Gibson said no. The exchange is documented by the Fourth District Court of Appeals.
"And what, what is your decision," Pegg asked Gibson after a short recess.
"No, I ain't going to testify," Gibson said.
"You've decided not to," Pegg replied. "Okay. You have every right to do so."
The next morning, Gibson's lawyer told the judge his client was "having a change of heart," but Pegg wasn't having it. "We discussed it fully yesterday," he told the attorney. "We had all afternoon. We're ready to go. Both sides have rested."
"So, you're saying I can't get on the stand?" Gibson interjected.
"No, sir. You had a chance to do that yesterday," Pegg said.
As the court proceeded with instructions for the jury, a prosecutor spoke up.  "Judge, I've never done this before, but I understand the defendant has expressed a desire to testify."
Pegg wasn't swayed. He told the lawyer that it was to the state's advantage to not hear the testimony. He said that Gibson was trying to create an environment ripe for a mistrial.
"It's simply a ploy to create error and he's done it on purpose," Pegg said. "And he knew he didn't want to testify from the start and I'm not going to permit it."
Shortly after, Gibson, was sentenced to life in prison with a mandatory minimum of 25 years behind bars. He asked for an appeal just days after his conviction, acting as his own co-counsel from his cell.