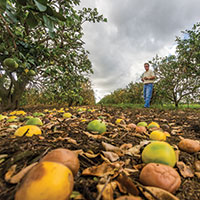 Irma destroyed up to half of Indian River citrus
STORY BY SAMANTHA ROHLFING BAITA
Photo: Scott Lambeth of Indian River Exchange Packers surveys damage to the grapefruit crop caused by Hurricane Irma.

Hurricane Irma, which blasted through citrus groves across the state, ripping trees apart and leaving young fruit in sodden heaps on the ground, dealt already struggling Indian River orange and grapefruit growers a devastating blow, destroying 30 to 50 percent of the crop.
"Once fruit touches the ground, it can't be salvaged," said Indian River Citrus League Executive Director Doug Bournique, so all the wind-stripped grapefruits and oranges are compost. More fruit will be lost in a second drop, he said, withering due to twisting stress that damaged tender stems as high winds whipped though the groves.
Florida University Extension Agent Gene McAvoy said Irma was "probably the worst hurricane that we've ever seen" in terms of damage to citrus groves.
His assessment was backed up by Florida Agriculture Commissioner Adam Putnam, who called the scope of damage "unprecedented" after a post-storm aerial tour of citrus lands.
Bournique said the storm hit at the worst possible time, destroying the banner crop Indian River growers anticipated would get the industry out of the red for the first time since greening brought it to its knees over a decade ago.
Greening is a bacterial plant disease that weakens citrus trees, leading to lower fruit production, and eventually kills them. Since it hit the state in 2005, Florida's citrus production has dropped by more than 70 percent
But it is still big business in and around Vero Beach.
The Indian River Citrus District is a narrow strip of land that lies between Daytona and West Palm Beach that is home to 21 packinghouses, scores of gift fruit shippers, several big citrus sales agencies, and processing plants.
Most of the district's 70,000 acres of groves are in Indian River and St. Lucie counties, with about half that in Indian River County, where grapefruit has always been the name of the game.
Currently, the district raises 70 percent of the grapefruit grown in Florida, and district packinghouses ship more than 12 million cartons of iconic Indian River grapefruit to customers in 24 countries around the globe each year, according to the Citrus League.
Prior to the storm, the emerging grapefruit crop had "never looked better," said George Hamner Jr., the fourth-generation of his family to head Indian River Exchange Packers.
Hamner, well known for his leadership in the state's citrus industry, is still assessing the extent of wind and water damage on the 4,000 acres of groves his company handles or manages.
Besides lost fruit and wind-wrecked trees, damage to remaining trees due to flooding is a major concern, Hamner said, noting that the area had heavy rainfall before as well as during the storm. Trees begin to deteriorate after they are submerged for three or four days and it takes them years to rebound.
Although no one is making precise official loss estimates yet, Hamner said, "there's a good chance it'd be 30 to 50 percent here and 70 to 80 percent [in central and southwest Florida]. It's worse than we originally thought. We'll continue to assess for another two to four weeks."
Louis Schacht is a third-generation Indian River County citrus grower, following in the footsteps of his father Henry F. Schacht, and grandfather Henry H. Schacht, who started their citrus business 67 years ago.  Today the family-run Schacht Groves still encompasses 145 acres and Louis Schacht and his father run a gift fruit shipping service that handles thousands of orders each season. 
"We've definitely got wind damage," says Louis Schacht. "Looks to be about 30 percent down [so far]. It's a bad situation."
To prevent foot rot, Schacht is "doing a treatment" on the trunks of the trees that have been standing in water, and he'll continue intensive care to ward off greening. In spite of the significant damage, Schacht is determined to "pick up and carry on. There's been Schacht Groves here since 1950."
To cover the damage, growers principally rely on crop insurance, which can pay 50 to 70 percent. It is purchased through private companies and subsidized by the federal government. Hamner says there is also a program called TAP – Tree Assistance Program – that can help replace trees. Bournique is also hoping for federal and state emergency funding.
Citrus industry infrastructure took a hit, too, and packing and shipping schedules are being adjusted, but Hamner said the remaining fruit in the groves continues to mature at its regular pace.
"We've started harvesting," he said, stressing that it is quantity, not the quality, of the fruit that has been affected.