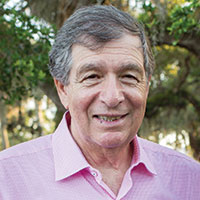 Island man, called 'mini-Madoff, ' is facing life jail term
STORY BY BETH WALTON

A Vero Beach island resident, who has been described as the "mini-Madoff" of the Connecticut Gold Coast, faces up to 50 years in prison after pleading guilty Sept. 11 to two federal counts of wire fraud in U.S. District Court.
John DiMenna, who owns a home with his wife on Englewood Court in Bermuda Club, scammed investors and lenders in Connecticut out of $69.6 million between 2001-2016, according to the U.S. Attorney's Office in New Haven.
The 74-year-old man waived his right to indictment this month after being charged in an extensive real estate investment and financing scheme, according to a statement made by the agency. He was released on a $250,000 bond pending sentencing. His next court date has not been set.
Reports from Connecticut said 131 members of the Wee Burn Country Club in Darien, where the DiMennas had a home, were investors in his commercial real estate and development projects, and that 18 Wee Burn members "lost everything."
Reached by phone, his wife, Lynn DiMenna, would not comment on the plea agreement or legal process.
"We are grateful to our family and all our friends who have been so supportive during this very difficult time," she said in a text message.
DiMenna used various entities such as Seaboard Realty, Seaboard Stamford Investment Group and Seaboard Properties Group to secure millions of dollars in capital for the purchase, renovation and construction of hotel and large multi-tenant apartment projects.
Court documents show DiMenna, together with two associates, managed a portfolio that included a nine-story Marriott Courtyard in Stamford and an upscale 129-unit condominium building called The Clocktower in Norwalk.
They would sell membership interests to investors to secure capital and obtain funds from institutional lenders like Citizens Bank, Cedar Hill Capital and Israel Discount Bank of New York in exchange for mortgage and securities interest.
DiMenna was responsible for managing the money, while his two business partners oversaw new and ongoing investments.
Between 2010 and 2016, DiMenna lied about the true cash value of the projects he oversaw and often borrowed money from prospering entities to make improvements and pay interest on other failing ones, according to the U.S. Attorney's Office.
"During the course of the scheme, DiMenna knew that certain of his properties were not cash positive," court documents note. "Rather than disclose that fact, DiMenna used funds from legally separate cash-positive entities to support capital improvements, construction, and operating expenditures in other LLCs that needed the cash.
"In addition, DiMenna began using funds from cash-positive entities to continue to make required interest and preferred returns to investors of any entity that he managed, regardless of the true available cash that an entity might have to fund such payments."
DiMenna would overstate income, understate expenses and use falsified financial statements and tax returns to lure and maintain support, the U.S. Attorney's Office said. He also sold equity in projects that were fully subscribed and thus not eligible for receiving more investment, it added.
"During the relevant time, DiMenna and his business partners, through various entities, purchased or held approximately 12 large commercial real estate properties with a worth of over $150 million," court documents note. "While a number of the above-mentioned investors received distributions during the relevant time, most lost money on their investment."
DiMenna regularly doctored accurate statements prepared by his own accounting manager to make figures appear stronger, according to the U.S. Attorney's Office.  He even created his own report template with fictional financials and provided that information to potential and current investors.  DiMenna would inflate operating projections by as much as 20 percent, court documents note.
DiMenna entered into financial agreements without his business partners' knowledge and at times forged their signatures, the U.S. Attorney's Office said.
Knowing they would be marketing ventures to potential investors, he armed his associates with false sales contracts, bogus lease commitments and other erroneous documents concerning the status and prospect of investments in order to booster sales, according to prosecutors.
No other arrests have been made in connection to this case, said Thomas Carson, spokesman for the U.S. Attorney's Office in Connecticut.
"The government contends that, through this scheme, victim investors lost approximately $28 million and victim lenders lost approximately $41 million, for a total combined loss of $69,617,685.38," the agency's statement notes.
DiMenna worked in construction and real estate for 40 years, before the Federal Bureau of Investigation started tracking his work, court documents stated. He started out in his family's construction business and then branched into real estate development. He later began managing investment properties.
According to the plea agreement, DiMenna fraudulently executed a $1.972 million wire transfer Sept. 9, 2014, from First County Bank in Connecticut to First American Trust in California. On April 30, 2014, he also wired with fraudulent pretenses, $500,000 from Bankwell Bank in Connecticut to TD Bank in New Jersey. Both transactions passed through the Federal Reserve.
In addition to potential jail time, DiMenna is subject to millions of dollars in fines, restitution payments, court fees and interest. 
The plea agreement requires him to pay $87.8 million payment in restitution to his victims for both fraud and non-fraud losses and prohibits him from appealing his conviction as long as his sentence does not exceed 10 years in prison, five years of supervised release and fines of no more than $350,000.