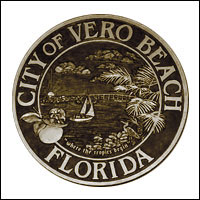 Six candidates running for Vero Beach City Council
STORY BY RUSTY CARTER

November's City Council election is shaping up to be a contentious – and consequential – contest, with six candidates vying for two seats and the fate of the electric utility sale possibly hanging in the balance.
Running are incumbent Harry Howle, seeking a second term; former council members Jay Kramer, Randy Old and Brian Heady; ophthalmologist and former hospital board member Val Zudans; and political activist Megan G. Hoots.
The current council has a 3-2 majority favoring a sale of Vero Electric to Florida Power & Light. With two of the pro-sale councilmembers still having a year to serve on their terms, election of one additional pro-sale candidate would keep the $185-million deal on track.
On the other hand, if two anti-sale candidates are elected, FP&L's purchase of Vero Electric could be in jeopardy.
Here is a quick look at the candidates and where they stand on the electric issue.
Harry Howle says he got involved in local politics because "I was tired of paying high electric bills," and was elected to the Council in 2015 as a pro-sale candidate. An insurance agent and self-professed fiscal conservative who says he understands the plight of Vero's small businessperson, Howle has stood shoulder-to-shoulder with Mayor Laura Moss and Councilman Lange Sykes in moving the sale to FPL forward.
Val Zudans is another pro-sale candidate. CEO of Florida Eye Institute, he is a board-certified diplomate of the American Board of Ophthalmology. Zudans has in past months taken aim at Councilman Dick Winger and his vacillation on the electric sale. Winger says he's for it on the campaign stump, but votes against every effort to sell. Winger did not file to run again, leaving a seat open, presumably in hopes his old buddy Jay Kramer will fill the void.
Randy Old was elected to the City Council in 2013 but lost his re-election bid in 2015. He has indicated he would like to see Vero out of the electric business, but has voiced concern over how the city will manage financially without the money it takes in from electric customers. When Old served on the council and represented Vero on the board of the Florida Municipal Power Agency, he frequently complained that the complex decision-making required to run an electric utility was way beyond his level of comprehension.
Jay Kramer served three terms on the City Council but decided not to seek re-election in 2016, when he ran unsuccessfully against Commissioner Bob Solari to represent Vero, Indian River Shores and the south barrier island on the county commission. He has a history of obstructing the sale of Vero Electric.
Brian Heady, a perennial candidate for local office, was elected to one term on the City Council in 2009 but has won no other races before or since.  He calls current council members "liars, cheats and thieves," and is sharply critical of the deal with FPL. Heady was on the council that voted to invite FPL to the table to talk about a sale, but his positions are as highly volatile as his votes were on the council, his recent statements ranging from telling the council to "just turn over the keys to FPL" to decrying the offered $185 million as nowhere near a fair price. Heady is a complete question mark.
Megan Hoots is a newcomer to local politics.  She says she would vote to approve the Florida Power & Light deal, but anticipates the decision will be made prior to the election. Hoots chairs the Indian River County Chapter of the Florida Young Democrats.
Staff Writer Lisa Zahner contributed to this report.