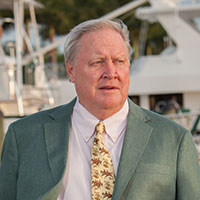 Steve Mulvey, passionate founder of Quail Valley Golf & River Club, dies
STORY BY RAY MCNULTY

Those who knew Steve Mulvey best will tell you that the resounding success of the Quail Valley Golf & River Club meant as much to him – and probably more – than any of his previous ventures.
Because he did it here.
"Steve loved Vero Beach, so much so that he made it his adopted home town," Quail Valley membership director Martha Redner said of Mulvey, who also owned a home in Rye, N.Y., but spent most of his time here. "He began coming to Vero as a boy because of his family's connection to the Dodgers, and when he came back later in life, he wanted to do something special."
Something significant. Something that would leave an indelible mark on the community. Something worthy of Vero Beach.
As Kevin Given, Mulvey's Quail Valley partner and the club's chief operating officer, put it: "Steve always talked about putting footprints on life, leaving an impression . . . He had a passion for doing that here."
And he did. When Mulvey succumbed to a heart attack last week at the Burke Rehabilitation Hospital in White Plains, N.Y., where he was recovering from a stroke that damaged his throat in July, the 65-year-old entrepreneur left behind a wildly popular, three-campus country club that has become imbedded in the social, business and philanthropic fabric of Vero Beach – especially on the island he called home.
"Steve was the visionary and driving force behind the creation and development of Quail Valley," Given wrote in an email sent to the club's members on Sept. 13, shortly after Mulvey died. "Much of our success and prominence in the private club industry was due to his passion, focus, determination and overall leadership."
Given and Redner said Mulvey's death, which came as a shock to the Quail Valley community and brought sadness to members and employees alike, would not affect the club's day-to-day operations.
Both said Mulvey's widow, Kathy, is committed to Quail Valley and that the club would not be sold.
"That's a logical question and I understand why some might wonder about that, but, other than emotionally, this will not impact what we do," Given said. "Twenty-seven of our 30 founding members are still here, and our 13 department heads have all been with us for 10 years or more. So we're in this for the long haul.
"My role might need to change some, but we're going to continue to honor and uphold Steve's vision," he added. "I've lost not only a business partner, but also a best friend. Steve was a big brother to me. But Kathy is like a sister, and we're on the same page."
Still, Quail Valley was "Steve's baby," as founding member Gary Kitchell described it, and Mulvey's presence there and in the community will be missed.
"It seems surreal that Steve has passed," said Andrew Kennedy, a Quail Valley member and manager in charge of business development and marketing for Proctor Construction, which built the River Club in 2003 and Quail's Royal Palm Pointe hotel and restaurant complex in 2016.
"The community has lost a rare breed," he added. "The what-you-see-is-what-you-get personality is so rare and, to me, that was Steve Mulvey."
Mulvey was born in Brooklyn and grew up in Rye, an upscale suburb of New York City. He received a Catholic school education, went on to attend the University of Notre Dame and was a lifelong Fighting Irish fan.
His Vero Beach roots ran deep, reaching back to his family's ownership share of baseball's Brooklyn and then Los Angeles Dodgers: Mulvey's maternal great-grandfather, Stephen McKeever, and great-uncle Edward McKeever, purchased 50 percent of the then-Brooklyn-based team for $500,000 in 1912.
Stephen McKeever was a construction contractor and, with his brother, helped build Brooklyn's famed Ebbets Field. He also served as the team's president from 1925 until his death in 1938.
The Dodgers moved to Los Angeles in 1958, and Mulvey's family retained at least a one-third share of the team until selling out to Walter O'Malley in 1975.
It was those ties to the Dodgers that first brought Mulvey to Vero Beach, where the team conducted spring training from 1948 through 2008. In fact, Mulvey's godfather was Dodgers great Gil Hodges.
"I was born in 1952 and came here every year until my family sold its share of the team," Mulvey said in an April 2015 interview with this publication, "so Vero has been a big part of my life."
It became an even bigger part in 2000, when Mulvey, who had been in the golf business since 1974, began exploring the possibility of building a golf club here that would be unlike any other in Florida.
Mulvey brought in Given – who had spent more than 20 years as the general manager at the Orchid Island Golf & Beach Club before moving to the Belfair Plantation in coastal South Carolina – to run the operation and, together, they hired Redner.
The Quail Valley Golf Club, located west of 66th Avenue at 69th Street, opened Jan. 21, 2002, with a challenging, championship-caliber course and spectacular, Shinnecock-style clubhouse.
From the outset, though, Mulvey's plan was to add an in-town social club that he hoped to locate on the beach. He had a contract to buy property on Ocean Drive in the Central Beach area but backed out when he was unable to get the permitting he needed and realized parking would be a problem.
It was during those negotiations that he learned the Riomar Bay Yacht Club was for sale. Seeing that the beach deal was doomed, he shifted his focus to a river club, negotiated an agreeable price and bought it.
"We bought the place in '03, spent nine months knocking down everything that was here and then rebuilt the club the way we wanted it," Mulvey said in that 2015 interview. "We opened the River Club in '04 and, as things turned out, this gave us more opportunities than we would've had at the beach club."
Then, in November 2014, Mulvey and Given paid $3.5 million for the 1.02-acre, waterfront property on which the Lobster Shanty rested and, a year ago, added Quail Valley at the Pointe. The 47,000-square-foot, members-only compound at the east end of Royal Palm Pointe has two dining areas, an outdoor deck and a hotel.
Quail Valley's membership has reached its capacity (1,015) with 315 golf members and 700 social/tennis members, and there are wait lists for both membership categories.
Given said their partnership has spent $80 million in the construction of new buildings for its three facilities and now has 250 full- and part-time employees. Quail Valley Charities has donated more than $5 million to local non-profit organizations that focus on children and their education.
"Steve was a hard-nosed Irishman like me; he was a very competitive guy," said Bobby McCarthy, owner of Bobby's Restaurant & Lounge, the island establishment where Mulvey would often socialize with friends. "He had an aggressive personality, and he wasn't afraid to take a risk.
"Most of the time, he came out on top," he added. "When he decided to build Quail Valley, he bit off a lot, but he made it work."
Mulvey, whose unyielding demand for excellence and fierce attention to detail set the tone for his staff, made it work because he was willing to work.
He often would tell people he had one standard – "I want the best" – and he refused to put his name to anything that wasn't first-class.
Occasionally, Mulvey could come across as gruff and curmudgeonly, so much so that Given sometimes would wonder: How does someone like that work in the hospitality business?
"I think he reveled in that image a little bit, particularly in the early years when he wasn't sure how this was going to all work out and he didn't want to make things too personal," Given said. "But he was really a teddy bear.
"A lot of the young people who work here saw him as a father or grandfather figure, and he had the utmost respect and admiration for them," he added. "And with the members, especially as he got older and saw the club's success and the effect we were having on the community, he got more comfortable in his skin.
"When people here heard about his stroke, he got 800 cards and texts from members and employees. Some members went to visit him in the hospital."
Several Quail Valley members and some of Mulvey's friends from Vero Beach flew to New York to attend Monday afternoon's viewing and Tuesday morning's funeral Mass in Rye. They then attended a noon reception at the Westchester Country Club, where Mulvey was a lifelong member.
Given said another service for Mulvey is being planned for the late fall in Vero Beach.
Kitchell said a big part of Mulvey's appeal was his straightforward, no-nonsense, John Wayne-like demeanor.
"He made it easy to be a friend because there was no pretense, no false diplomacy," Kitchell said. "He was a man's man. He'd look you in the eye, shake your hand and listen to what you had to say. If he agreed with you, he'd let you know. If he didn't, he'd let you know that, too.
"You knew exactly where he stood, and where you stood with him," he added. "He was never going to take crap from anyone."
That doesn't mean Mulvey didn't have a sense of humor and he enjoyed some good-natured fun with Quail Valley members.
Kennedy recalled one evening when he and his dad were dining at the club when Mulvey walked over and said, "I see you and your father are spending big tonight for dinner. What, are you splitting a baked potato?"
"I will miss giving him the awkward man-hug or getting ribbed," he added. "He will be dearly missed."
Several of Mulvey's friends gathered in his honor at Bobby's one night last week.
"He's gone too soon," McCarthy said.
In addition to his wife, Mulvey, who had no children, is survived by three brothers (Kevin, Patrick and James), a sister (Keelyn) and his beloved St. Bernard (Truman).
When he wasn't working, Mulvey enjoyed hunting and fishing, as well as supporting his wife's success as an amateur golfer who has won multiple club championships.
He was a member of the National Rifle Association, Ducks Unlimited and, according to his obituary, "many organizations committed to balancing land conservancy and wildlife."
In his email to members, Given said he, Redner and the rest of their staff would honor Mulvey's legacy by "committing ourselves to keeping his spirit alive at Quail Valley."
Those who knew Mulvey best know how much that would've meant to him.