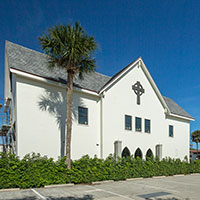 Storm slows the completion of St. Paul's Church on the island
STORY BY RAY MCNULTY

Hurricane Irma has delayed for at least a month the opening of St. Paul's Church, currently under construction on Flamevine Lane.
St. Paul's Rector Jon Robbins was planning to welcome worshipers to the new sanctuary on Oct. 8, but he said the September storm – which produced 60-plus mph winds, more than a foot of rain and an evacuation of the island – has forced him to push back the date of the first public services to November.
"Irma definitely has impacted us," Robbins said last week. "Exactly to what extent . . . and how much it will delay us, we're still figuring that out.
"I suspect it's going to be at least a month, but I don't know for sure, so I'm reluctant to say," he added. "We're still in the process of working with the builder."
Robbins said work on the new church, located just west of Ocean Drive in the Central Beach business district, came to a halt as the hurricane passed through the area.
"We were shut down for an entire week," Robbins said.
Then, he added, the final stages of construction were slowed by delays in getting materials and the departure of some work crews in Irma's aftermath.
"Whenever you have a storm like that, it puts pressure on your supply chain," Robbins said.
Robbins held a groundbreaking ceremony on the site in May 2016, after the church finally secured a shared-parking agreement with a neighboring business, the Amalgamated Realty Corporation.
The church has room for only 20 parking spaces on its property, but the agreement provides enough parking to accommodate congregants attending services in the 150-seat sanctuary.
The 6,500-square-foot, two-story building also will include administrative offices and classrooms on the second floor.
St. Paul's has "just over 100 members," Robbins said, but not all are regular church-goers. He said church leaders and members of the congregation are "sensitive" to the parking concerns of their beach business district neighbors.
The St. Paul's ministry was established five years ago with Robbins as its rector – the Anglican Church's title for pastor – and held services in a conference room at the old Surf Club Hotel until it was sold in March 2015 and torn down.
The church then moved its services to the Garden Club of Indian River County.
Now, he's hoping to open the church's doors to the public soon.
"We're getting lots of positive feedback on the building," he said. "Our goal now is for the interior of the church to be as beautiful as the exterior."