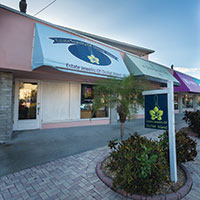 Island jolted by smash-and-grab on Ocean Drive
STORY BY BETH WALTON
Photo: Estate Jewelry of Orchid Island (left) was hit by break-in during the wee hours.

Detectives on Monday were still looking for suspects in two island break-ins that rattled the nerves of oceanside residents last week.
An unknown person smashed the front display window of Estate Jewelry of Orchid Island around 3 a.m. on Tuesday, March 27, and made off with 25 pieces of sterling silver jewelry, valued at around $4,000.
The store is located at 3115 Ocean Drive in the heart of the upscale Central Beach shopping and dining district, across the street from the historic Driftwood Resort.
Some of the jewelry was later found by a maintenance worker on the grounds of the Driftwood, according to Estate Jewelry manager Tom Grimshaw.
"I feel bad this happened to this city, to the town of Vero – not that it was just our store – but that it happened here, because it doesn't feel quite as safe now," Grimshaw said. "It is upsetting that they would have the audacity to do this to anybody on this street."
 "Multiple officers responded to the jewelry store in an attempt to locate a suspect without success," said officer Megan DeWitt, a spokeswoman for the Vero Beach Police Department.
The jewelry store had surveillance cameras recording footage during the early-morning hours when the theft occurred, Grimshaw said, and the video was turned over to police.
Indian River Shores Public Safety also is on the lookout for a brazen thief. Police say an unknown suspect ransacked a Surf Lane residence March 26, the day before the jewelry store robbery.
The resident left his home in the morning and when he returned around 2 p.m., he found a door pried open, said Officer Rodney Grass. The victim waited outside until officers came to the scene.
The house had been torn apart and personal items taken, Grass said.  The resident was still inventorying what is missing. 
There were no security cameras at the residence, he said. Police went up and down the street asking the neighbors if they heard or saw anything, but no one had additional information.
The Indian River Shores Department of Public Safety was reviewing footage from the town's roadside cameras to see if there was anything that might be connected to the midday robbery, added Grass.