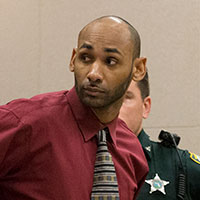 Killer of Simpson to defend himself in murder retrial
STORY BY BETH WALTON
Photo: Henry Lee Jones in court.

The man who has been serving a life sentence for the murder of Brian Simpson during the 2011 burglary of the Central Beach resident's home will represent himself as he prepares for a new trial.   
Henry Lee Jones, 29, requested to be his own attorney in April just weeks after Circuit Court Judge Cynthia Cox refused to allow him a new public defender.
His decision came despite the judge's repeated warnings that such a move could prove dangerous and disadvantageous to his case.
Jones, who was convicted of first-degree murder and burglary, was granted a second trial in 2017 after the Fourth District Court of Appeals overturned his earlier conviction.
Justices argued a new trial was warranted because Jones' public defender was not allowed to question potential jurors about racial prejudice or bias. Jones is black.  Simpson, 41 at the time of his death, was white.
Jones shot Simpson through a bathroom door after he and an associate got caught burglarizing the family's Fiddlewood Road home, according to testimony at the trial.
Co-defendant Darius Robison testified against Jones at the first trial in exchange for a reduced sentence. He said the two were at the house when Simpson came home and started fighting the intruders.
Simpson, a father and husband, cornered Jones in the bathroom before he was shot and killed.
Jones has a constitutional right to represent himself, and the state's case remains unchanged, said Assistant State Attorney Stephen Gosnell.
It's the victim's family that is most hurt by retrials as they once again are forced to revisit a tragic and traumatic time in their lives, he said.
Simpson's widow and other family members sat in the courtroom gallery watching somberly as Jones struggled to prepare his second defense.
Jones argued in March that Public Defenders Alan Hunt and Dorothy Naumann weren't meeting his expectations.
"My life is in the hands of them representing me and this counsel is not representing me," he said. "I don't trust them. We have irreconcilable differences."
Jones claimed he was given bad legal advice before his first trial, and that he wasn't getting all the records he felt were necessary to follow his case, including any emails sent between the prosecutor and the defense attorneys before his conviction. 
Naumann downplayed Jones' concerns in open court. She said issues pertaining to the first trial were no longer relevant and that Jones had all of the discovery and transcripts she had.
Time is better spent securing experts, talking to witnesses and revisiting the facts, she told the judge. "I'm definitely working on this case. There is a lot to do."
Cox warned Jones it would be difficult to work as his own attorney while at the Indian River County Jail. Unlike the prosecutors, Jones won't have regular access to technology making it difficult to file motions and schedule depositions, she said.
Jones, who completed the 10th grade and a G.E.D. program, told the judge he understood the challenge ahead. He elected to have a standby public defender present in the courtroom to answer basic, procedural questions, but said he would remain responsible for his own defense.
The state is only obligated to provide Jones a new public defender if he can prove ineffective assistance of counsel – not just a difference of opinion.
"I don't have cause to believe they are not rendering effective assistance to you," Cox told Jones in March. "Everything they have told me they are doing points to the direction they are properly preparing your case for trial."
She told the defendant he could hire a private attorney or represent himself if he was unhappy.
Before returning to his cell after the April hearing, Jones made his first legal move. He requested all the files from his two previous public defenders. "I don't know if they are going to let you have that at the jail," Cox said.
Jones then asked the judge if she had legal textbooks for his review. The jail has a small legal library.
"I can't help you. I can't be your attorney." Cox said. "You have full responsibility. That's a decision you made."
Cox told Jones to speak to his former public defender about the lawbooks.  Naumann, whose services were no longer requested, was still positioned at the defense table standing by her former client's side.