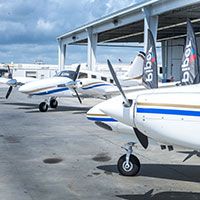 Piper's China order would not be impacted by threatened tariffs
STORY BY RAY MCNULTY

Piper Aircraft CEO Simon Caldecott said last week he does not expect the Vero Beach-based company to be hurt by the tariffs threatened by Beijing in response to President Trump's trade-war rhetoric targeting Chinese exports to the United States.
He said the planes Piper is building for a Chinese aviation company, which ordered 150 training aircraft in February, are well below the weight range cited by China's commerce ministry on its list of U.S. imports that could be subject to duties.
The list of American-made products that could be hit with retaliatory Chinese tariffs includes small aircraft, but only those weighing over 15,000 kilograms.
"Currently, Piper Aircraft manufactures eight different models of aircraft with the largest weighing significantly less than 15,000 kilograms," Caldecott said in a statement.
"While we are continuing to review the list of 106 products," he added, "given the current information available to us, we do not believe that Piper products will be subject to the described duties should China decide move forward with implementing the tariffs."
Two months ago, Piper announced that it had received an order for 152 airplanes – 100 Archer single-engine trainers, 50 multi-engine Seminoles, one Seneca and one M350 – from Fanmei Aviation Technologies, a subsidiary of Sichuan Fanmei Education Group, the leading provider of aviation education in China.
The seven-year purchase agreement was the largest single training-aircraft order in Piper's 80-year history. Deliveries are scheduled to begin this spring.
Jackie Carlon, Piper's marketing director, said the company is continuing to monitor the tariff talk coming out of Washington and Beijing as the war of words escalates.