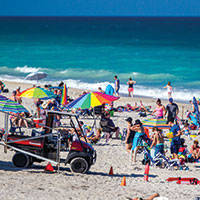 State law on beaches seen solution to problem that doesn't exist here
STORY BY KATHLEEN SLOAN

If you own a piece of oceanfront property – and have always wanted to keep the public from pitching their umbrellas or setting up their chairs on the upper part of your "private" beach – a new state law would make it more difficult for cities or counties to prevent you from roping off some sand.
While this has been a problem in other parts of Florida, particularly with hotels and beachfront restaurants, no one recalls this ever being an issue on the Indian River County barrier island – where people have always strolled and sunbathed anywhere they want along the 22.4 miles of beach stretching from the Sebastian Inlet south to Round Island Park.
But what this new law signed into law last month does is provide that counties and cities can no longer pass ordinances declaring all beaches public under the common-law doctrine of "customary use." 
Only three of Florida's many coastal counties and cities had ever seen reason to pass such ordinances – Indian River County and Vero Beach not being among them – and local officials generally see little need here for, and little impact from, the new state law.
"This is a good example of the Legislature using a sledge hammer when a surgical scalpel was needed," Indian River County Commission Chairman Peter O'Bryan said.
What the law does provide is that if a coastal county or city wants to deal with an attempt to privatize a stretch of beach in the future, it must do it through the courts, and prove that the customary public use of the upper part of the beach – the "dry-sand" part above the mean-high-tide line – was "ancient, reasonable, without interruption, and free from dispute," according to Attorney Diana Ferguson, a lobbyist for the Florida Shore and Beach Preservation Association.
The "wet sand" part of all Florida beaches has been public under the Florida Constitution since 1970.
O'Bryan said another reason why the private beach issue is unlikely to become a problem here stems from Indian River County's participation in the Florida Department of Environmental Protection's beach renourishment program, which funds up to 50 percent of projects.
The Department requires an "erosion control line" be established in front of all property before it gets sand under this program, below which the beach is acknowledged to be public.
County Coastal Engineer James Gray said that during his nearly 16-year tenure, no beachfront property owner has ever protested the establishment of an erosion control line as part of a renourishment program.
About 9 miles of island beach already have established erosion control lines. One for "Sector 5," which is 3 miles long stretching from around Jaycee Park to the Riomar Country Club, is underway, Gray said.