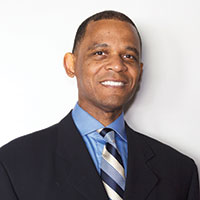 Witnesses build drug case against Johnny Benjamin
STORY BY BETH WALTON

FORT LAUDERDALE – One by one, prosecutors paraded witnesses into a federal courtroom this past week to build their case against a Vero Beach spine surgeon accused of illegal drug distribution and providing the fentanyl-laced pain killer that caused a Palm Beach woman's 2016 overdose death.
Dr. Johnny Benjamin sat calmly in court, sandwiched between his lawyers, as testimony was taken on Monday, the second day of the trial. He wore glasses, a dark suit and tie. His mother watched from the pew behind him.  If convicted, he faces life in prison.
The case hinges on the testimony of Kevan Slater and Zachary Stewart, two DEA informants whom prosecutors say sold prescription and counterfeit pain pills on the street for Dr. Benjamin and assisted in a scheme to build the surgeon's inventory of illegal pills as the illicit operation spread throughout the Treasure Coast.
Three people testified Tuesday they were recruited to fill prescriptions of a hundred or more pain pills in exchange for the promise of pain relief, drugs, money or friendship. Though their individual stories varied, each said they drove to Vero Beach for pills like oxycodone or hydrocodone. They would wait in the ProSpine Center parking lot before being presented with a signed script from Benjamin's prescription pad.
The handwritten scripts, shown to the jury, were then taken to area pharmacies for fulfillment, they said. The bulk of the pills were later returned to Slater for sale on the street. Each pill was worth an estimated $20 apiece, prosecutors said.
Though none of these accomplices actually saw Benjamin sign the prescriptions, two pharmacists who expressed alarm over the excessive and unusual scripts testified that they recognized the doctor's handwriting. One, confused why a person from the Miami area was in Vero Beach getting pain medicine, even called Benjamin to verify that the prescription was legit.
Benjamin told Indian River County pharmacist Gregory Decrescenzo the woman had driven to Vero Beach for his care.
The second day of the trial opened with emotional testimony surrounding the tragic death of Maggie Crowley, 34.
Her family seated in the courtroom gallery at times wiped tears from their eyes. Many stepped outside the room when prosecutors showed photographs of her body. She had collapsed on her bedroom floor Sept. 1, 2016. Her skin was blotchy and red from the effects of the toxic and addictive fentanyl, with which some of Benjamin's pills were allegedly laced.
Shaun Crowley said his wife hurt her back at a music concert years before and was prescribed oxycodone. When the family moved to Florida at the height of the state's pill mill epidemic, she had trouble filling her prescription, he said. She then started getting pain pills from Slater, her coworker at an Outback Steakhouse restaurant.
Slater, who called Cowley "a beautiful soul," took a somber tone as he described giving his friend the fatal dose. He said he warned her in a text message the latest batch of pills was dangerous, because of the fentanyl content. She replied that a half a pill worked for her in the hours before her death.
"I thought she needed them for pain relief," Slater said under oath. "I believed she was in pain."
Slater testified Stewart had given him the illicit pills to test out a new market, research price points and find customers.
Moments after Crowley died, Slater texted his dealer, Stewart, to say they were no longer going to get paid. 
Though he never met Benjamin, Slater testified he had heard about the Vero Beach physician who was the source of his dealer's supply.
Defense attorney Donnie Murrell pointed to inconsistencies in testimony. He said the facts connecting the drugs that killed Crowley to his client were weak.
The DEA got tunnel vision once Benjamin's name was mentioned, he said.  The doctor was railroaded by his longtime friend whose mother once worked at his office. "Zachary Stewart is the drug dealer," Murrell said. "Zachary Stewart is the supplier. "
The informants can't be trusted, the defense attorney argued. They have both pleaded guilty to drug crimes. Their stories have changed throughout the investigation. They are only here today because they want to avoid prison.
"Lying is what drug dealers do every day," Murrell said. "It's a talent of the trade."
The trial was expected to last at least through the end of this week.