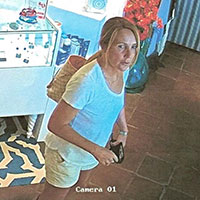 Woman makes off with rings from Village Shops boutique
STORY BY LISA ZAHNER

For the past two weeks, Indian River Shores police have been trying to track down a woman suspected of stealing more than $21,000 worth of jewelry from an island boutique via a sleight-of-hand trick during a busy trunk show on March 27.
The blonde, suntanned and designer-clad woman, described in a police report as 5 feet 7 inches tall and approximately 110 pounds, allegedly came into the Belle Cose luxury boutique in the Village Shops in Indian River Shores, with her dog in tow, during a jewelry trunk show event.
She arrived around 1:42 p.m. and then departed, telling the store owner she had to go get some earrings that she wanted to match, but that she would be back.
The report states, "The owner of the store retrieved some jewelry to show some patrons that visit the store regularly. These items were set out on a display case in clear view of a security camera. At about 1750 hours (5:50 p.m.) the suspect returns without the dog. She shows her earrings and engages in conversation. There are other patrons and friends present."
That's when the sleight of hand allegedly occurred.
According to the police report based on the security camera footage, the woman palmed one of the rings and put it in her pocket without anyone seeing what she did.  She then continued browsing and interacting with other people in the store for several more minutes before apparently slipping the other ring into her pocket.
"She then shops for several more minutes and then departs walking out toward the front of Bank of America. None of the friends in the store witnessed the sleight of hand."
The vendor of the jewelry noted the items missing when an inventory was conducted. After a review of the video surveillance tapes, the owner reported the theft to police on April 13.
The items stolen were a rubelite and gold ring valued at $6,100, and another rubelite and gold ring valued at $15,000. Rubelite is another name for pink tourmaline, a valuable gemstone.
The Shores Public Safety Department put an "Attempt to Locate" bulletin with a very clear surveillance camera image out on social media in hopes that someone would recognize the woman.
Odds are, however, if the glamorous suspect was day tripping from outside the area, or in town only for spring break or the Easter holiday, she is now gone and the odds of locating her may not be great.