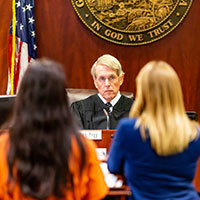 Acupuncturist Jill Jaynes closes popular clinic; now facing fraud charges
STORY BY FEDERICO MARTINEZ
Photo: Jill Jaynes at court hearing.

For more than two decades, Jill Jaynes operated the most popular and successful acupuncture clinic in Indian River County. Every year hundreds of patients returned time after time for treatment at her beautifully decorated, state-of-the-art facility, which employed five acupuncturists and featured soft music, herbal tea and sterling self-help literature in the waiting room.
Now it turns out that soothing environment may have been funded by a variety of illegal activities, if fraud and racketeering charges brought last week are proven.
Jaynes, a licensed acupuncture physician and owner of Absolute Integrated Medicine, was arrested at her office last Wednesday and faces allegations that she conspired with others to defraud an insurance company by submitting false or incomplete information, illegally waived patient copayments and deductibles, and unlawfully paid others who referred patients for treatment.
"Inflated and exaggerated," is what attorney Brooke Butler calls the charges against her client. "You bet we're going to fight this." Jaynes, who is out of jail on bond, is scheduled to be arraigned Sept. 26.  Butler said she plans to enter a not-guilty plea. If convicted, she could face a maximum of 135 years in prison and millions in fines, officials said.
The alleged crimes occurred between Sept. 1, 2013, and Dec. 31, 2016, according to the arrest warrant, but Butler, who appeared in court with Jaynes on Friday, Aug. 24 for a bail hearing, vigorously denies the charges against her client.
After the hearing, at which Jaynes' bail was reduced by half a million dollars, from $955,000 to $455,000, Butler pointedly accused the county of trumping up charges against Jaynes because her client embarrassed the county by finding a since-closed loophole in its employee insurance plan.
State investigators raided Jaynes' clinic on Oct. 10, 2017, seizing computers, patient files, bank records and billing information.
The arrest warrant alleges that she defrauded Florida Blue Cross Blue Shield of about $1.5 million, about $1.2 million of which was for county employees.
Investigators say Jaynes enticed patients covered by the insurance company plans to use acupuncture by waiving deductibles and coinsurance payments and providing free vitamins, supplements and weight-loss programs.
One of the charges against Jaynes arose from bank records obtained via subpoena that show she was paying Relentless Dietetics $300 for each patient that they referred to Absolute Integrated Medicine, a violation of state law.
According to the warrant, weight-loss programs are specifically excluded from coverage under all Blue Cross Blue Shield Plans.  But Jaynes was able to bill these patients.
Jonathan Montgomery and Nicholas Peterson, who are co-owners of Relentless, admitted to investigators that they are not familiar with "any benefits of acupuncture on weight loss, nor are their clients ever required to receive acupuncture treatments to be successful with their programs."
But none of the claims Jaynes submitted in connection with the Relentless Dietetics program were coded as being treatments for "weight loss." Instead, they were coded for different types of pain.
According to investigators, Jaynes, who taught several acupuncture billing classes and seminars, including one titled "ethical insurance billing," had devised more than one way of bilking insurance companies.
One woman had filed 259 claims billed to insurance before she filled out new patient paperwork, according to the warrant, a violation of insurance company terms. More than 800 appointments that were deleted from the system were billed anyway.
Investigators also alleged the insurance company was billed for 185 claims totaling more than $22,000 that supposedly were incurred during a five-day period when the office was closed in November 2013.
In addition, Jaynes is accused of directing employees to file multiple claims for services provided during a single visit to help cover the costs of "free" supplements, a spreadsheet indicated.
According to the warrant, patients received more than $200,000 in herbs and supplements at no cost. Blue Cross Blue Shield paid more than $300,000 for the claims submitted, leaving Jaynes with a profit of nearly $100,000, investigators say.
A review of patient files revealed that fewer than half of Jaynes' claims between 2012 and 2016 had documentation.