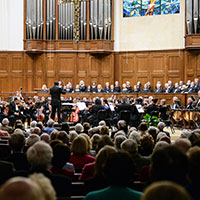 Atlantic Classical Orchestra moves to Community Church
STORY BY MICHELLE GENZ
Photo: Atlantic Classical Orchesta plays sold-out concert at the Community Church last year. Photo: MaryAnn Ketcham.

When Atlantic Classical Orchestra's David Amado decided to perform Schiller's "Ode to Joy" last year, the grand music posed a logistical problem: even with the smaller size of the chamber orchestra, its 45 musicians plus various community choirs couldn't fit on the stage at St. Edward's School.
Instead, the orchestra's management decided to use Vero's Community Church, a few blocks north of the mainland downtown.
The concert was a sell-out, and the sound was spectacular. As a result, for only the third time in the group's 29-year history, ACO has decided to move to a new location, leaving St. Ed's Waxlax Theater, its home of more than a decade, and relocating to Community Church for all four concerts in its 2019 season.
For concertgoers, the move solves two longstanding issues: acoustics and parking. And for those with a packed social calendar, a change from Thursday to Tuesday evenings could mean fewer conflicts, though the concert in March remains on a Thursday evening.
"With all those restaurants downtown, ACO should make a great date night," said Cindy Roden, ACO's director of marketing.
There are no restaurants in St. Ed's south barrier island neighborhood. Even more frustrating for those whose idea of an after-party is a pillow and blanket, the St. Ed's parking lot had only one way out onto A1A, and the back-up to exit could last a half-hour or more.
By contrast, Community Church has multiple ways out. "You can leave that church three different ways," said Roden with a laugh. "It's so easy. It's beautiful. It's perfect for us."
While most of the orchestra's season subscribers live on the island, the move to the mainland may attract a new and possibly younger audience, Roden said.
That sector has been growing in Stuart, where ACO performs a Friday night concert at 8 p.m., along with a typically sold out 4 p.m. concert Friday afternoon. Those concerts are held in the historic Lyric Theatre, which, like Community Church, is near dozens of bars and restaurants.
So far, the commitment at Community doesn't extend beyond this year, though Conductor Amado called the church "our new home" in an ACO statement, and said he hoped to have "many wonderful seasons" there.
Amado called the new space "acoustically gratifying." That was not always the case with the St. Ed's stage, where the sound, said to be more accommodating to voices than to instruments, was thin at times and seemed to skip over whole sections of seats. Community Church's sanctuary, by contrast, underwent a pricey acoustical redo when its massive Lively-Fulcher pipe organ was installed in 2013.
It's not impossible that the organ may one day be featured in an ACO concert, Roden said. Collaborations with other arts organizations are also anticipated.
Roden hopes to fill Community Church's large sanctuary next year for the orchestra's 30th anniversary, so that founder and conductor Andrew McMullan, a longtime Vero resident, can see his orchestra perform in a venue similar to where he first conducted it – at nearby First Baptist Church.
McMullan retired in 2004 when Stewart Robertson took over as music director. Robertson retired for health reasons in 2015; Roden said he is doing well. Amado became conductor in 2016; he is also music director of the Delaware Symphony.
Roden and Amado praised the management of the Waxlax for accommodating them during their tenure.
"We are honored that Community Church's established and respected role in cultural leadership now includes ACO," Amado added.
The four concerts at Community Church comprise the Masterworks program. The group's chamber music series will continue to be held at the Vero Beach Museum of Art's Leonhardt Auditorium. Those Sunday afternoon concerts are almost always sold out.
In addition to Stuart, ACO also performs in Palm Beach Gardens at the Eissey Campus Theatre at Palm Beach State College.