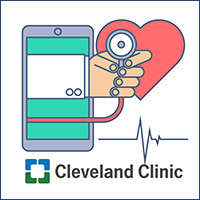 Cleveland Clinic seen moving quickly on telemedicine
STORY BY MICHELLE GENZ

Florida is late to the healthcare game – again.
In the last legislative session, the legislature failed, once more, to craft a policy on telehealth, making Florida one of the last states without a policy, even as other states are approaching the new technology with open arms.
The failure was blamed on legislators' inability to decide on insurance coverage and other reimbursement rates for Skype-style remote healthcare "visits," even though a state Telehealth Advisory Council formed in 2016 gave clear guidance on the issue, recommending that remote consultations be billed just like in-person visits to doctors' offices.
Now it appears telehealth expansion is happening in Florida, and at break-neck speed, with or without a state-sanctioned framework.
In Vero, the pending partnership with Cleveland Clinic could very quickly introduce telemedicine to the offerings at Indian River Medical Center, since the Ohio-based health system was an early adopter, launching a telemedicine platform in 2015.
Cleveland Clinic Express Care offers a 10-minute visit with a doctor who will review symptoms, make a diagnosis and send in a prescription to your pharmacy at any time of day or night, with or without an appointment. The cost without insurance is $49 or less with an app downloaded from the app store.
And the Indian River Hospital District Board – charged with healthcare delivery to people who were left when Florida's governor refused to accept Obamacare expansion of Medicaid – is already considering the program, seeing a strong connection between the virtual visit technology and patients isolated by illness or poverty.
Hospital District Board treasurer Allen Jones has been quietly investigating telemedicine as one of several options to address primary care needs of Gifford and Wabasso residents who, rather than establish themselves with primary care physicians at low-cost care centers like Treasure Coast Community Health, continue to go to the hospital emergency room for non-emergency care.
Recently, Indian River hospital officials proposed slapping a $50 copay on those visits as a disincentive to the poor. But the proposal has serious drawbacks, according to numerous studies – either the copays are rarely collected, and therefore fail to deter people from coming; or they keep people away even when they have true emergencies. One emergency physician, interviewed on the subject, predicted deaths would result if the fee is imposed.
Already, one Hospital District agency utilizes telehealth. A year ago the nonprofit New Horizons mental health and primary care agency implemented a program they call Telepsych, using a psychiatrist in another state.
Moves here to include telemedicine in indigent care here won't be the first in Florida. In May, in Polk County, home to the cities of Lakeland and Winter Haven, a free program offering mental healthcare via telemedicine was put in place for indigents. It will be funded through a half-cent sales tax there that generates $40 million a year for indigent healthcare, a tax that voters in 2016 extended by referendum for another 25 years.
In Indian River County, with a population one-fourth the size of Polk County, the Hospital District levies a property tax for indigent care that brings in more than $13 million a year, which is distributed among a half-dozen agencies including Indian River Medical Center.
Last year, during Hurricane Irma, two Central Florida hospitals offered telemedicine for free: Nemours Children's Hospital, whose pediatricians practice at IRMC; and Florida Hospital, which at one point was in the running to take over IRMC.
As the hurricane  approached, while it was here and in its immediate aftermath, both Nemours and Florida Hospital's telemedicine apps were flooded with calls from people seeking virtual doctor visits, reported the Orlando Sentinel. Nemours saw a 500 percent increase in the number of people who installed the CareConnect app as Irma approached, with 270 children seen through the app in the three days surrounding the hurricane's hit. 
At Florida Hospital, where normally four or five people a day phone in, there were 40 to 50 a day, the paper reported. The director of urgent care programs there, Dr. Timothy Hendrix, a self-described old-school doctor, is now "a total convert."
Hendrix told the paper the spike in use of Florida Hospital's eCare app "really made me realize the potential of telemedicine and the potential ways we can use technology during natural disasters."
Florida Health has since been renamed AdventHealth, a change announced last week.
If the apps were consoling to parents and the elderly during Irma, when urgent care centers and clinics were shut down, they could serve the same purpose after hours here, posits Jones. In a small town like Vero, where urgent care centers typically close at 7 p.m. or 8 p.m., the need for alternatives to hospital emergency room care is obvious.
"My current thinking is to investigate this as a means to provide after normal business hour care for the indigent," said Jones. "If it is well received, we could expand it, depending on a number of factors, to provide normal business hour care. Cleveland Clinic does have some capability in the service, and it may be a natural fit here for us to investigate with them. Of course, if Polk County is already doing this, maybe we can find out how their residents have responded to the service."
Jones said District Executive Director Ann Marie Suriano is looking into telehealth providers in Florida and plans to arrange a presentation to the Trustees.
Suriano's research may take her to grocery stores. In the Tampa area, Publix has joined forces with BayCare Health System to open 25 telemedicine kiosks in its stores by the end of the year. Virtual visits to a board-certified doctor are a flat $45 fee. Prescriptions can be filled at the store's pharmacy or called in to the pharmacy of the patient's choosing.
Last week, CVS launched a telehealth program through the Teladoc platform that operates through customers' own mobile devices. Those visits, at $59, are already available in Florida, just as they are with the MedLive app through Walgreens. And late last month, Walgreens launched the Find Care Now feature on MedLive, connecting patients not only to services at Walgreens clinics and pharmacies but with local providers, labs and urgent care centers.
Nationally, Amazon's secret 1492 team is said to be working on telemedicine. And Google Cloud just gave a one-year contract to former Cleveland Clinic president and CEO Toby Cosgrove, who came to Vero in November to make the initial pitch for acquiring Indian River Medical Center.
Cosgrove, among the most respected hospital executives in the nation, is a champion of using technology to improve patient experience and streamline care delivery, and has long advocated the use of virtual visits and electronic health records.
At the federal level, the recently approved budget includes coverage for virtual visits through private Medicare Advantage plans, a move sure to boost usage among seniors, making Florida even more ripe for telehealth companies.  And earlier this month, the FCC announced a $100 million initiative for the Connected Care Pilot Program telehealth initiative, hoping to reach low-income Americans, particularly in rural areas.
Most importantly, expanding telehealth will increase access to care at a time when the numbers of primary care physicians are dwindling across the country. In Florida, the latest data shows the number of federally designated Health Professional Shortage Areas is growing, and in 2016 stood at 623. 
The federal government predicts Florida will be short 3,060 primary care doctors by 2025, all but assuring that telemedicine will be a major part of future healthcare in the state.