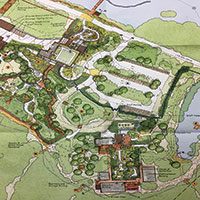 ELC told to get professional help with plans for campus
STORY BY SAMANTHA ROHLFING BAITA

The leaders of the Environmental Learning Center have been planning a major, multimillion-dollar overall and expansion of their campus on Wabasso Island for more than a year, but they were not very well prepared when they sat down to review their plan with county officials last week.
A rendering of the new campus envisioned by ELC leaders, which they presented Aug. 20 at a required pre-application conference with the county planning department, was "beautiful and colorful, but very conceptual in nature," according to planner Ryan Sweeney.
A picturesque, theme-park-like map illustrated in an appealing way design elements that include Maritime Hammock, Lagoon Terrace, Critter Corner, Osprey Perch Trail, Hidden Island, Butterflies and More, FUN Zone, Live Oak Stroll and other new features.
But it was not the kind of technically specific document county planners had expected, and a second conference will be scheduled "in a few months to a year," according to Sweeney.
For the Planning Department to understand and give preliminary approval for the project, Sweeney explained, "we need more specifics – dimensions, to-scale, technical details," and a submittal "by a professional, civil engineering firm."
On the plus side, ELC officials have plenty of time to get their plans worked out in more detail and they say a professional document prepared by an engineer will be forthcoming.
Environmental Learning Center Executive Director Molly Steinwald has said it will likely take several years to raise funds for such a substantial undertaking, and that she doesn't expect there will be "any major physical change to the campus in the next year or two."
Prior to the Aug. 20 meeting, Deputy County Attorney Bill DeBraal sent a memo to Sweeney outlining the ownership history and allowed uses of the 64-acre island property, at the western base of the Wabasso Bridge on the 510 causeway.
The county received the land from the state in 1965. In 1977, the deed was amended so the property could be used for environmental education. A decade later, the county entered into a 99-year lease with the Pelican Island Audubon Society to develop the property for that purpose. In 1989, Audubon assigned the lease to the Environmental Learning Center, Inc., an organization that evolved out of Audubon.
DeBraal wrote that "the $1-per-year lease has no restrictions on improvements or buildings other than that they "be used exclusively for an environmental learning center and accessory uses," and that development should be in harmony with the environment and create as little disturbance to wetlands and uplands with native vegetation as possible.
When "actual site plans and design considerations" have been approved by the State Department of Environmental Protection and the county planning and building departments, construction can begin, according to the lease.
"Thus," DeBraal concluded, "after the DEP and county staff have approved the site plans, I would have the Board (County Commission) formally approve the plans at a regularly scheduled meeting."
ELC Board member Ken LaPointe, a long-time real estate professional, commented, "It's a very exciting plan, and I'm looking forward to working on it."
Enlisting an engineering firm and designing a major fundraising campaign will certainly be next on the agenda of the immensely popular center, which is county's hub of nature education, exploration and hands-on experiences for school children and people of all ages.