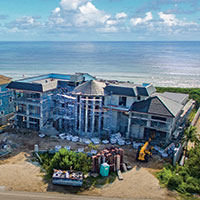 Lottery winner building huge home in Ambersand Beach
STORY BY STEVEN M. THOMAS
Photo: Biggest house ever in Ambersand Beach rising on what had been three lots along A1A.

The largest house by far that has ever risen in Ambersand  Beach is being built on an ocean-to-river lot two miles south of the Sebastian Inlet, apparently by a very private man who appears to have won one of the largest lottery jackpots in history.
Situated, like all houses in Ambersand Beach, on the east side of A1A, the 18,810-square-foot poured-concrete and concrete-block fortress will have seven bedrooms – including a 2,100-square-foot master suite – nine bathrooms and two massive garages.
Construction began in April 2017 and the shell is now complete, stretching for 120 feet along the scenic state highway on the north island, with the finished roofing material in place and windows ready to be installed.
The three-story home is being built for Barton Raymond Buxton, according to county records and other sources. Buxton could not be reached to comment on the house, but the history of the project is spelled out in detail in 170 pages of county building department records and other public documents.
Buxton and his wife Cynthia arrived in Ambersand Beach in August 2014, when they bought the home immediately north of the house under construction, paying $2.1 million for a three-story, 6,500-square-foot residence that sits on a 1.35-acre lot at 13090 Highway A1A.
Four months earlier, a California resident with the identical name and with a wife named Cynthia had come forward on April Fool's Day to reveal himself as the winner of $425 million in the February 2014 Powerball Lottery. He collected a $242-million lump-sum check.
On the day he picked up his winnings, Buxton hid his face from photographers behind a large symbolic check and told California Lottery officials he planned to set up a charitable foundation focusing on "pediatric health, child hunger and education."
The Buxtons must have found Ambersand Beach congenial because, one year after buying the house at 13090 A1A, in August 2015, they bought the three lots south of 13090, paying $2.175 million in cash in a transaction handled by a Brevard broker.
After he bought the three lots next door to his current house, Buxton applied to the county property appraiser's office to combine them into a single tax role parcel that totals 4.82 acres. More than two-thirds of that property is part of the river bottom, classified as "submerged lands."
Buxton seems to have bought the lots with the big house project already in mind. He immediately commissioned a soil test, that was reported back in October with a thumbs-up for construction.
The Florida Department of Environmental Protection gave its approval early in 2016, issuing a permit on Feb. 12.
Buxton filed a Notice of Commencement, which had to do with site work, in March 2016, and a flurry of applications and permits continued throughout the next year, including permits from the county, FDEP and the Army Corps of Engineers to fill wetlands on the site. A building permit was issued on April 21, 2107, and foundation work began shortly afterward.
The island is only 400 feet wide at the site and the maximum elevation is just 3 feet above sea level. Instead of bringing in a mountain of fill to raise the home safely above a 100-year storm surge, the house was designed, like most others in Ambersand, with garage and storage space on the first floor, surrounded by breakaway, "frangible" walls that could be washed away without harming the structure's integrity.
To fasten the house securely to the island, general contractor David Daleiden of Brevard-based Project Management Experts dug and poured 120 auger pilings, 16 inches in diameter and loaded with rebar, extending 30 feet down into the earth.
The pilings protrude above grade and are tied together with a geometric web of 2-foot by 3-foot concrete grade beams reinforced with eight to 10 heavy steel bars. A steel-reinforced concrete slab overlays that massive foundation. Concrete walls are tied directly to the foundation with steel, and concrete second- and third-level floors are tied to the concrete walls.
The building isn't going anywhere.
The first level of the house includes two large garages, each one approximately 2,000 square feet – the size of an average 3-bedroom, 2-bath, 2-car garage house – and another 2,000 square feet of storage space.
An elevator goes up from the ground level to the second floor, which includes a 2,000-square-foot great room, the 2,100-square-foot master bedroom suite, four en suite guest rooms, a small parlor and a laundry room. The second-level floor is several feet above the crest of the highest wave predicted in a 100-year storm.
The high-and-dry second floor can also be entered via the front exterior steps and porch that are visible from A1A and lead to the front door.
The third floor can be reached via the elevator, a grand semi-circular front staircase or a utilitarian back staircase.
The front staircase is enclosed in the home's most notable architectural feature, a semi-circular colonnade of concrete columns that will be enclosed with windows between the columns that commands the front façade and looks west over the Indian River.
At the top of curved stairs, on the third level, is a 2,600-square-foot living room/dining room/kitchen space with wide open ocean views. Off the kitchen are a green house for growing fresh vegetables and herbs and a scullery. A clubroom, bar, exercise room and VIP suite occupy the rest of the interior on this level. There's also an oceanfront terrace that looks to be about 4,000 square feet.
The main part of the house has a flat roof, trimmed with a mansard surround, that will be finished as an immense rooftop deck with truly panoramic views taking in ocean, river, island, inlet and everything else for many miles around.
Environmentalist and north island resident Bob Bruce said the Ambersand Beach area was originally intended for ramshackle fish camps.
Some years ago, a scheme was floated to fill the shallow edge of the lagoon 1,000 feet out to build condominiums. The organization that became Pelican Island Audubon Society was formed to fight that plan, which it did successfully.