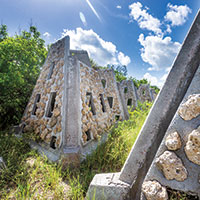 New artificial reef to be sunk in ocean next week offshore from Windsor
STORY BY SUE COCKING

Indian River County plans to sink a new artificial reef next week about three and a half miles offshore from Windsor that will become a haven for fish and other marine creatures, and is expected to attract large numbers of scuba divers and anglers.
Alan's Reef will consist of 10 hollow, pyramid-shaped structures made of lime rock and concrete that will cover an area of sand bottom about 200 feet in diameter, arranged roughly in a V-formation in 50 to 55 feet of water.
The site lies about 5.5 nautical miles south of Sebastian Inlet. Deployment is scheduled for Aug. 22, depending on weather conditions.
"It's a multipurpose, multiuse reef, [that will be used for] recreational fishing, diving, dive training for first responders, and education," said James Gray, Indian River County's coastal engineer.
Named after Palm Bay businessman Alan Harshman, an ocean advocate, community volunteer and member of the Sebastian Inlet Sportfishing Association who passed away last year, the modules will have smaller rocks embedded in their concrete surface that came from the Harshman family's backyard. 
Gray said the heavy structures will be transported to the site on a barge and lowered by crane onto the bottom by McCulley Marine Services of Fort Pierce. The $30,000 project cost, he said, will come from the county's budget, plus contributions by Harshman's friends.
Alan's Reef will be the latest addition to a collection of manmade structures in the recently-permitted Orchid Island Artificial Reef Complex – a 2.5-square-nautical-mile zone stretching 5 to 8 miles south and 3 miles offshore of Sebastian Inlet.
The inaugural reef was Strike Zone, deployed last year ago a short distance north of Alan's site and named for a Melbourne marine retailer that helped with the project. It's made up of 14 similar modules arranged in a bulls-eye pattern over an area 200 feet in diameter.
Gray said plans call for up to 60 new artificial reefs to be put down in the complex over the next decade or so including a rubble reef constructed from approximately 900 tons of concrete from the Wabasso Fishing Pier, a catwalk beneath the 510 Causeway damaged by Hurricane Matthew, that is scheduled to be sunk next year.
Indian River County's artificial reef program began in the mid 1990s after members of the Sebastian Inlet Sportfishing Association said they'd like to see manmade fishing reefs constructed near the inlet. Between 1997 and 2014, the county sank 10 structures about 12 nautical miles offshore in about 70 feet of water. Materials include concrete light poles, culverts, railroad ties and bridge decking.
Harshman's widow Jane is thrilled the new marine habitat will honor her late husband.
"I am amazed they actually went ahead and did this for him," Jane Harshman said. "I mean, who has a reef named after them?"
She said she expects her grandson Colin, an avid angler, and the rest of the family will go fishing on the reef.
The GPS coordinates for the center of Alan's Reef are: 27 50.12658 north; 080 21.63936 west.