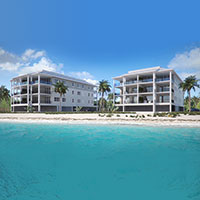 New luxury condo development in the Shores
STORY BY STEVEN M. THOMAS
Photo: Rendering of Blue at 8050.

Prominent island developer Yane Zana has purchased the 4.7-acre oceanfront tract just north of the Carlton in Indian River Shores and plans to build four buildings that will each house between three and six luxury condo units, depending on what size homes buyers want.
The buildings – three residential stories atop a ground-floor garage – will be nearly identical to the condo Zana is building on Ocean Drive across from Conn Beach, with  preconstruction prices ranging from $1.545 million for a second-floor 2,500-square-foot unit to $3.995 million for a full-floor penthouse unit.
This is the second high-end condo project planned for this location. The first one, called 8050, never got off the ground, but Zana has already sold two units and began to clear the site this week.
In addition to the four 26,000-square-foot condo buildings, the community – which has been named Blue at 8050 – will include a clubhouse with fitness center, 70-foot lap pool and putting green.
Zana is fast-tracking the project to take advantage of favorable market conditions. He plans to go vertical in January, starting with the two southern-most towers, once permits have been secured from Indian River Shores and the Florida Department of Environmental Protection. He projects a 14-month build-time with units ready for occupancy early in 2020. Two have already been reserved.
If sales meet expectations, Zana plans to start the second two towers in mid-2019.
To accelerate the process and reduce his costs, Zana is using the complete set of building plans he and his engineers developed for the Ocean Drive condo, where the concrete shell is now complete and can function like a model home for the new development.
The favorable market conditions Zana is in a hurry to capitalize on are twofold. First, the U.S. economy and island real estate market are in good shape. Second, "reasonably priced" newly-built oceanfront inventory is almost non-existent in Vero.
Only one $2.8-million townhome remains at Surf Club and other new oceanfront homes on the island range from about $5 million to $10 million.
"Of particular interest to us is the void in the market in the $3- to $4-million range for new construction oceanfront product," Zana says. "We believe the double residence condominium homes fulfill for the first time in a very long time this element of the market."
A full-floor penthouse unit at Blue at 8050 will have 5,000 square feet of living space, and with covered terraces, the square footage jumps to 6,600. Penthouses will also come with a private, climate-controlled four-car garage under the building.
"I know the demand for that product is out there," Zana says. "Those units will be 64 feet wide, as large as a single-family oceanfront house on a 100-foot-wide lot, with one-level living in a maintenance-free, amenitized community. You get all of that for between $3.5 and $4 million.
"That really doesn't exist anyplace else in Vero Beach," he added. 
The 4.7-acre site with 300 linear feet of oceanfront originally was part of a 39-acre ocean-to-river tract assembled from grove land in 2004 as the real estate boom was heating up and sold to an out-of-state developer.
By the time the developer had plans and permits in place, the market had cooled off, and the land has been sold several times since then.
In 2014, Alloy Development, a partnership between Vero Beach businesswoman Katherine McConvey and New York architect Jared Della Valle, paid $7,250,000 for the oceanfront part of the parcel Zana and his partners now own.
Della Valle designed an 18-unit modernist condominium project with preconstruction prices ranging from $3 million to $3.5 million that drew rave reviews but never attracted buyers.
Zana started looking at the property in May and closed on it June 15.
Zana is confident his condos will sell, even though the Alloy project never got off the ground. While his penthouse units are half a million more expensive than Alloy's, his entry-level homes are only half the cost and he is targeting a wider slice of the luxury buyer demographic, offering six price points between $1.54 million and $4 million.
And he is selling a proven product in a project that is underway. If someone signs on the dotted line this month, they can plan on moving into their new home within 2 years, maybe a little sooner. With the Alloy project the wait-time was open-ended with at least a 3-year lag between the first contract and completion.
At the Ocean Drive condo, Zana sold the top floor as a 5,000-square-foot penthouse and expects to sell all the top floors and probably some on the two floors below at the new project as full-floor units.
Half-floor condos, which Zana calls corner units, will be 3-bedroom, 3.5-bath, 2,500-square-foot homes, with two-car, climate-controlled garages.
The condo buildings will be in the Anglo-Caribbean style and all units will have private elevators, high-end fixtures, finishes and materials, and wide-open ocean views.