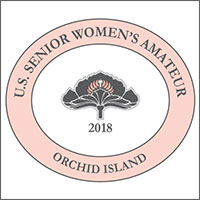 Senior Women's golf final at Orchid Island to be filmed by FOX
STORY BY RAY MCNULTY

A FOX Sports crew plans to shoot footage of the final round of the 2018 U.S. Senior Women's Amateur Championship, scheduled for Oct. 6-11 at Orchid Island Golf & Beach Club.
According to Sarita Meinking, director of field operations for FOX Sports, the footage will be included in a season-ending golf special the network will air Thanksgiving weekend.
"We'll send out a small crew to follow the two finalists in match play, then shoot the trophy presentation," she said.
Ted Hutton, an Orchid Island Club past president who is serving as the tournament chairman, said he was thrilled to learn last week that the tournament would receive TV coverage – something that didn't happen when the 2015 U.S. Mid-Amateur Championship was played at the John's Island Club.
"It's certainly positive news," Hutton said. "When we submitted our bid for the tournament, we assumed there would be no TV coverage because, as far as I know, it's never been done before for this type of championship. So it's a very pleasant surprise.
"One of the reasons a small club like ours wants to host these tournaments is the publicity and exposure they generate, especially in the golf world," he added. "When you host a USGA major championship, more people become aware of your golf club and your community. Getting even a little bit of TV coverage only expands your reach.
Orchid Island originally had requested the 2015 Senior Women's Amateur but settled for 2018 after the 2015 Mid-Am – the first USGA major championship played in the Vero Beach area – was awarded to John's Island.
The Senior Women's Amateur, first played in 1962, is open to women amateurs ages 50 and up with a handicap that doesn't exceed 14.4. Championship play is preceded by 18-hole sectional qualifying tournaments conducted by state and regional golf associations.
One of the qualifying tournaments is scheduled for Sept. 17 at Vero Beach Country Club.
From the sectional qualifying, 132 players will compete in 36 holes of stroke-play qualifying Oct. 6 and 7 at Orchid Island, where 64 of them will advance to the match-play bracket that will determine the champion.
The quarterfinal and semifinal rounds are scheduled for Oct. 10. The final is set for 8:30 a.m. Oct. 11.