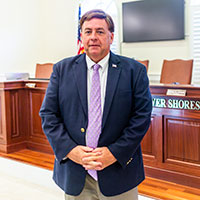 Shores hires former Melbourne Beach town manager
STORY BY LISA ZAHNER
Photo: Town Manager Candidate Tim Day.

One year after resigning his post as Melbourne Beach town manager because his family refused to move there from Cape Coral, Tim Day was hired last Thursday by Indian River Shores as its new town manager contingent on his family relocating here this fall.
Day was one of five finalists for the Shores town manager job, which will pay $125,000 per year plus benefits. Three of the finalists had pulled themselves out of the running during the hiring process, as it took the town nearly six weeks to make a decision.
The Indian River Shores Town Council voted unanimously for Day, with the proviso that he establish a local primary residence within three months of starting the job. The town also approved up to $10,000 in temporary housing and moving assistance.
All the council members and staff said they were very impressed with Day. "He's all the attributes that suggest he would be a great candidate," Vice Mayor Mike Ochsner said.
In December 2015, Melbourne Beach hired Day to run the town for $89,000. But in July 2017, he gave the town two weeks' notice, saying, "it has become apparent that my family will not be coming to Melbourne Beach in a fulltime capacity to reside with me."
Day said he was honored to be selected to manage the Shores, and promised the council he would indeed relocate his family from the west coast of Florida within the three-month timeframe.
Day will take over for retiring Town Manager Robbie Stabe on or about Sept. 16, unless there is a hurricane in the interim. Day said if that happened, he would start the day before the storm hit and want to have control of town preparations and recovery from the get-go.
Councilman Dick Haverland had high praise for Day, saying: "He has good common sense. He's got his feet on the ground."
Day's public safety experience was one deciding factor, as well as his service as a Cape Coral elected official. He was a uniformed police officer until sustaining injuries in pursuit of a suspect, Haverland said.
Day's experience was the best fit for a luxury residential community with a triple-trained public safety agency, Mayor Tom Slater agreed.