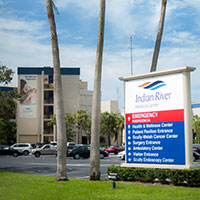 Cleveland Clinic names future president of Vero hospital
STORY BY MICHELLE GENZ

With the merger of Indian River Medical Center and the Cleveland Clinic all but a done deal, the trickle-down of talent has already begun. Two top physicians at the prestigious health system's Cleveland flagship hospital have been tapped for leadership positions here.
Gregory Rosencrance, an internal medicine doctor who heads Cleveland Clinic's Medicine Institute, has been named president of Indian River Medical Center. The publicly-owned hospital is expected to become Cleveland Clinic Indian River as soon as state and federal regulatory agencies clear the merger, expected sometime in January.
Rosencrance, who joined Cleveland Clinic after a long tenure at West Virginia University, will replace interim IRMC President and CEO Karen Davis, who has led the hospital since the retirement of Jeff Susi at the end of 2017. Davis is going back to her previous position as a healthcare consultant with the firm Alvarez and Marsal.
The move to Vero will be a return to Florida for Rosencrance. He formerly chaired the Department of Internal Medicine at Cleveland Clinic Florida in Weston. Since February 2016, he has chaired Cleveland Clinic's Medicine Institute, which includes primary care, family medicine, pediatrics and infectious diseases among other specialties.
"I am excited and privileged to return to Cleveland Clinic Florida as the future president of Indian River Medical Center," said Rosencrance. "Together we will advance access to world class healthcare."
Rosencrance's expertise in population health is good news to trustees of the Indian River County Hospital District, which owns the hospital on behalf of county taxpayers. The Hospital District's focus is on taking care of the county's medically underserved communities. District Board chairwoman Marybeth Cunningham has met Dr. Rosencrance and is pleased by his appointment.
"I am really excited about his leadership and background in population health as the District becomes more focused on this for our community," she said. "We will learn a lot from him and look forward to a great partnership to benefit the whole county."
For interim CEO Davis, her expected departure from IRMC will be "bittersweet," she said.
"My time at IRMC has been incredibly rewarding," said Davis, who won praise for her initiatives in improving the emergency department and other parts of the hospital. "I am so impressed with everyone and will miss the camaraderie I developed during this transition period."
She cited the launch of the Vero hospital's interventional stroke program as a source of pride, as well as the increased collaboration with other healthcare agencies to ease patients' transition from hospital to home.
Another key post affecting medical staff at Indian River – the Florida division chief of staff – also will be filled by a Cleveland Clinic physician, Dr. Joseph Iannotti.
Iannotti, who has been with Cleveland Clinic since 2000, currently is co-director of Cleveland Clinic's Orthopedic and Rheumatologic Institute. He maintains a clinical practice as an orthopedic surgeon and has a joint appointment in the department of biomedical engineering.
A past president of the American Shoulder and Elbow Surgeons, Iannotti has some 60 patents to his name. He has written two textbooks on the shoulder and authored more than 200 peer-reviewed papers.
He will oversee physicians in what is expected to be a network of five community hospitals, if all goes well with regulatory approval of the Cleveland Clinic Florida expansion.