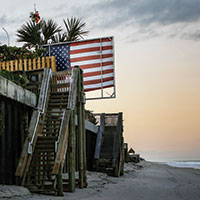 County sues to establish public access to Summerplace beach
STORY BY KATHLEEN SLOAN
Photo: Beach in front of residence of Robert Jaffe, who last summer roped off an area in front of his seawall.

Indian River County filed a lawsuit Nov. 30 seeking to establish public access to a 2,000-foot stretch of beach in the Summerplace subdivision north of Wabasso Beach Park, the first suit of its kind in the state since a new law affecting beach access took effect July 1, according to County Attorney Dylan Reingold.
The state law took power away from local governments to simply declare beaches public through the "customary use doctrine," putting in place a requirement for a court rulings to settle disputes about public beach access.
The "dry sand" part of the beach above the "mean high water mark" is at issue. The "wet part" of the beach is declared public by the Florida Constitution, but the "dry" part of the beach may be property of a private landowner. However, if it can shown that the beach has a history of unfettered public use, then the landowner cannot block off his portion of sand.
The suit was filed because Robert Jaffe, who lives in Summerplace, attempted to block access to the dry beach in front of his seawall after the law took effect, according to county officials. They say this is the first time in Indian River County's known history that there has been a dispute about public beach access.
The county's "Complaint for Declaration of Recreational Customary Use" names 22 properties, including Jaffe's, and gives the owners 45 days to "intervene," Reingold said. No other Summerplace owners are known to oppose public access, and many of them have offered testimony in favor of keeping the beach accessible, officials said.
Nineteenth Circuit Judge Paul Kanarek has been assigned the case. If he orders that the beach is public, then the county also asks he grant "permanent injunctive relief" to force Jaffe to remove any barriers.
Jaffe has 20 days to reply to the injunctive-relief summons, served on Dec. 3.  Jaffe did not respond to a request for comment, but a visit to Summerplace on Monday showed that a rope barrier which had been placed on the beach in front of Jaffe's property this summer had since been removed.
Before the law was passed, Indian River County had not declared any part of its 22 miles of beaches public.  Although most of the land is in front of private property, owners have willingly allowed public access after millions of dollars have been expended in beach nourishment projects.
The county gave "notice of intent" to file suit on Oct. 2, as required by the new law, by holding a public hearing after giving 30-day prior notice to Summerplace property owners. Jaffe did not attend the public hearing.
Evidence that will be presented in court was previewed at the public hearing. Included were maps dating back nearly 100 years, photographs dating back to the 1930s, and written affidavits from county staff and property owners – all intended to establish that the 2,000-foot stretch of beach has been used by the public "without dispute and without interruption for many years," the standard for customary use.