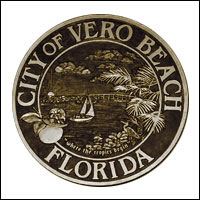 Do-over Vero Beach City Council election scheduled for Feb. 26
STORY BY LISA ZAHNER

Thankfully for anyone who is sick of hearing about election challenges and lawsuits, Vero Beach has settled litigation filed by disqualified City Council candidate Linda Hillman and a trial will not be needed.
On Nov. 29, Circuit Judge Paul Kanarek issued an order in response to a joint motion to settle the case filed with the court that day.
"The City of Vero Beach will hold a special election at the City's expense on February 26, 2019, and Plaintiff Linda Hillman shall be on the ballot, as well as the other candidates, as stated in the September 7, 2018 letter from the City to the Indian River County Supervisor of Elections in the order listed in the letter," Kanarek wrote.
That means Brian Heady who, like Hillman, was removed from the Nov. 6 ballot for incomplete paperwork, will benefit from Hillman's fight.
Per the judge's order, Heady will be on the Feb. 26 special election ballot with Hillman, plus the four candidates voters had to choose from last month – incumbents Laura Moss and Tony Young, plus challengers Robbie Brackett and Bob McCabe.
The move to settle came after the parties began exchanging interrogatories and witness lists in preparation for  a Dec. 17 trial.
Hillman claimed she was wrongly disqualified by city staff and removed from the ballot after her name was included in the list of candidates sent to Supervisor of Elections Leslie Swan.
Until the Feb. 26 election is held and certified, Vice Mayor Lange Sykes, who opted not to seek re-election,  will remain on the council. Moss and Young will also keep their seats for at least another two-and-a-half months.
Mayor Harry Howle said Monday he was glad to put the matter in the rear-view mirror. "The series of events which occurred with the COVB election process, before, during and after the qualifying period, is certainly unfortunate.
"Fingers can be pointed in all sides of this fiasco," Howle said. "Rather than drag it out I felt moving on, and changing city election processes and ordinances so this never happens again, was the best choice for everyone."