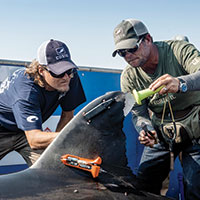 Great white shark Katharine returns to our waters
STORY BY SUE COCKING

Along with the annual migration of snowbirds, another repeat visitor arrived for Thanksgiving and the holidays: Katharine the Great White Shark.
Katharine, who is more than 14 feet long and weighs 2,300 pounds, popped up about 30-to-40 miles off Melbourne on Nov. 23, Black Friday, then surfaced three times about 30 miles off Fort Pierce on Nov. 28. 
Her whereabouts are tracked by a satellite tag she wears on her dorsal fin that was implanted by the nonprofit ocean advocacy group OCEARCH when it caught her off Cape Cod, Mass., in 2013.
Whenever she surfaces, her location is beamed from the tag to a satellite and then downloaded to OCEARCH computers. The organization posts her tracks, along with those of numerous other sharks and marine animals around the world, on its website ocearch.org.
Katharine – named for Cape Cod native Katharine Lee Bates who wrote "America the Beautiful" – has attracted a large group of admirers over the 36,000 miles she has travelled in the past five years. With more than 56,000 Twitter followers at @Shark_Katharine, she is especially popular in Florida where she has made several trips to both the Atlantic and Gulf regions.
She spent several months swimming around the Space and Treasure coasts in 2017, and in 2014, she pinged about a quarter-mile off Sebastian Inlet. Along the way, she dished about her journeys and marine conservation topics on social media.
"The people of Florida seem to be demonstrating you can have an informed, respectful relationship with white sharks," OCEARCH founder Chris Fischer said.
Fischer, 50, of Park City, Utah – a lifelong recreational angler, former television fishing show host, and married father of three – formed his nonprofit in 2007 after learning from shark scientists that populations of the apex predators were in trouble, a trend that put the health of oceans worldwide in peril. 
"As they go, so goes the system," Fischer said. "They balance the system.  If you don't get things rolling the right way, then our kids don't eat fish sandwiches."
So Fischer and the crew of the 118-foot research ship M/V OCEARCH began tagging great white sharks for scientists. The aim is to learn as much as possible about the animals' life history – where they travel, feed, mate, and give birth.
The crew catches the sharks on heavy fishing lines from small tenders and brings them aboard the ship on a platform that can be raised and lowered into the water.
While pumping fresh sea water through the sharks' gills, the fishermen and scientists work with the speed and efficiency of an Indy pit crew – implanting satellite, acoustic and accelerometer (speed and orientation) tags; taking DNA and blood samples; conducting ultrasound examinations of females suspected to be pregnant; and then releasing the animals back into the ocean – all in about 15 minutes.
They've learned a lot in the past decade from Katharine and her shark colleagues, according to Dr. Robert Hueter, senior scientist at Sarasota's Mote Marine Laboratory, who serves as OCEARCH's chief science advisor.
For example, Hueter said, Katharine's forays around Nova Scotia and Newfoundland show that area is important to big females. Her track out into the far Western Atlantic past Bermuda may indicate she was pregnant. And Katharine's trips to Florida in winter and spring don't actually mean she's a snowbird seeking warm waters; instead, she likely is feeding on right whales that migrate through the area, along with large fish such as tunas.
Hueter said scientists are still trying to figure out where white sharks mate; they found and tagged 20 pups recently off Long Island, New York.
Besides the scientific contributions of Katharine and her friends, Hueter notes the goodwill they've spread among humans.
"Now people are rooting for them," he said. 
Since its inception, OCEARCH has conducted 33 ocean expeditions with 174 researchers from 90 institutions around the world.
Expeditions, which usually last about three weeks, cost about $25,000 per day. But Hueter said ship time is free to scientists, the costs underwritten by corporate sponsors and private donors. 
All data generated is open-source; the public has access to everything, anytime. Teachers in Florida and everywhere else are invited to incorporate OCEARCH's work into their STEM classes (science, technology, engineering, mathematics).
"We give away the data," Fischer said.  "We're including the world in the journey."