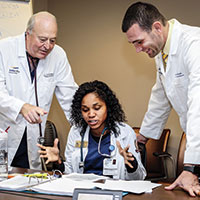 Indian River hospital's medical education program expands
STORY BY MICHELLE GENZ

Dr. George Mitchell, a longtime critical care physician at Indian River Medical Center, has been named the hospital's first director of medical education.
His appointment comes as the hospital launches an expansion of existing third- and fourth-year medical school rotations, potentially beyond the dozen or so students who train each year at IRMC as part of the current program with Florida State University's Fort Pierce medical school campus.
If the incoming Cleveland Clinic leadership agrees, and if in the weeks ahead Cleveland's merger with IRMC passes regulatory hurdles, future graduate residencies and fellowships could be available here to medical school graduates from around the country and abroad.
All parties speak guardedly about those more advanced programs, but it's clear that the groundwork is being laid for graduate medical education should Cleveland Clinic choose to have it here.
"We can certainly look at it and see what makes the most sense," Cleveland Clinic Florida's CEO and president Dr. Wael Barsoum told Vero hospital officials last March.
With Mitchell's new post and the expansion of the program, there is hope that IRMC will one day reach full teaching hospital status.
"We've put the bricks and mortar together for that process to move ahead smoothly," said Mitchell, though he added that so far, physical spaces such as offices and classrooms are being shared with other departments.
At the same time, the interest from physicians is proving strong, he said. Already, some 70 physicians from Vero Beach are on the FSU-Fort Pierce faculty. Mitchell says new hires at IRMC are being asked if teaching is of interest, and those who say 'yes' are increasingly getting the jobs on offer.
"When we look at the landscape and new physicians coming on board, what we see is that there's a lot of interest in medical education," Mitchell said.
"We have named several physicians representing specialties like internal medicine, OB-Gyn and surgery, as well as physician assistants and nurse practitioners, which will be an integral part of our education program."
While FSU provides training for physician assistants, the closest institution training advanced-practice registered nurses is Florida Atlantic University.
"We will be getting medical students from other medical institutions so we're looking at other options right now," said Mitchell. "But our commitment is strongly to FSU – to continue to train and expand the training at this institution. There are students from other schools who want to do electives here, and they can, as long as it doesn't infringe on our relationship with FSU."
Mitchell said any programs begun at IRMC will have to be approved by FSU's medical school as well as its dean, Dr. Juliette Lomax.
Lomax was asked to join the IRMC board of directors, where she now serves, by retired hospital CEO Jeff Susi. Susi for years hoped IRMC would develop a rigorous medical education program.
Lomax said she expects her students, who learn in community-based clinics and hospitals as opposed to training with residents at a university-affiliated hospital, will continue to get "one-on-one, apprenticeship style opportunities" at IRMC.
"The formalized medical education program that has been developed at IRMC will enhance our students' learning opportunities," she said.
Mitchell pointed out that students from Cleveland Clinic's medical school may one day come to Vero to train, which would benefit patients. Studies have shown that having more eyes on patients saves lives at teaching hospitals.
For now, IRMC's medical education department doesn't have a dedicated space within the hospital. Students and faculty are using a medical conference room and two training rooms in the administration wing.
Mitchell hopes to use those spaces for discussion-based learning sessions that help medical students analyze published research, or to brainstorm on diagnoses and treatment of challenging cases, much as the cancer center does with tumor boards.
As for the new department's administrative office, Mitchell the intensivist has found a de facto home. "It's up in the surgical intensive care unit," he said.