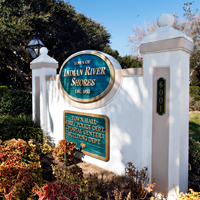 Is Shores missing a bet as it searches for a new town manager?
STORY BY LISA ZAHNER | NEWS ANALYSIS

It should not take seven months to hire a new town manager for a municipality of 4,000 people.
Overall, the Indian River Shores Town Council does the taxpayers proud when it comes to taking care of business. The executive and financial knowledge and experience stored in the five members of the Shores Town Council is probably tops in Florida.
But they may have missed a great opportunity when they rejected an innovative proposal by Vice Mayor Bob Auwaerter last week to get the most out of the existing town staff instead of bringing in someone town leaders were admittedly not thrilled over.
Town Manager Robbie Stabe, who served for 22 years as a decorated, triple-trained public safety officer, and then briefly as chief before being promoted to town manager in 2013, gave his notice on May 17 due to health concerns related to job stress.
Since then, however, several of the major projects Stabe had been immersed in have been mostly or completely resolved, which would lessen the strain on his health if he stayed.
Since the town has not found the "perfect" candidate to replace Stabe – either on its own or via headhunters The Mercer Group – Stabe told his bosses he'd be willing, even eager, to stay up to five more years in the job.
Auwaerter, a respected problem-solver, thinks Stabe should stay on. Auwaerter praised Stabe for his ability to multitask and for his people skills.
But to take some of the pressure off Stabe in the areas that are not his strengths – strategic planning and fiscal management – the vice mayor proposed promoting Town Treasurer Heather Christmas to Assistant Town Manager.
Since her duties ebb and flow with budget and audit seasons, and since Christmas is deeply involved in the town's employee benefits and pension planning, the co-management proposal could create a synergy, while preserving the valuable local knowledge Stabe has of the town.
Stabe and Christmas already collaborate successfully, and the council praised Christmas for her skill set, her responsiveness, her accountability and financial reporting.
Unfortunately, Auwaerter could not get three votes for his solution.
Meeting minutes distributed on Friday reveal zero consensus on any of the three town manager candidates the Shores brought in for face-to-face interviews with all five council members. And those three were the cream that rose to the top of nearly 40 applicants after a nationwide search that took three months.
One major sticking point to keeping Stabe on has to do with looming labor negotiations between the town and its public safety workers union. Those talks have been contentious in the past, and promise to be equally difficult in 2019.
The Shores' council hired a labor attorney to do its bidding, but due to delays in the start of contract negotiations, the attorney hasn't had time to hammer out a deal yet with the union.
A similar arrangement has worked well for the City of Vero Beach.
As it stands with the town manager question, the Town Council has authorized The Mercer Group to go back to the drawing board in January, looking again at the dozens of applicants the town weeded through this summer and reconsidering some of those who were interviewed and rejected by Mercer's principal W.D. Higginbotham.
Instead of taking this route and dragging out the search, the council could entertain Auwaerter's pragmatic proposal once again, and possibly get more traction.