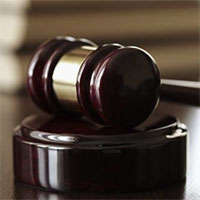 Judge refuses to dismiss charges in 'pill mill' case
STORY BY FEDERICO MARTINEZ

A motion to dismiss charges against defendants accused of operating a "pill mill" in Vero Beach was rejected by Judge Cynthia Cox during a three-hour hearing on Nov. 30.
Attorneys for the 12 defendants in the high-profile case argued the charges should be dismissed because undercover detectives "lied" about their identities and engaged in extreme methods to produce fake documents used to "entrap" those charged.
"This is not about our clients breaking the law," said Daniel Aaronson, a Fort Lauderdale attorney who spoke on behalf of the other attorneys present. "This investigation was started for political reasons and nothing else."
Aaronson alleged that investigators for the Indian River Sheriff's Office began harassing Stuart Pain Management Center staff and clients the first day the clinic opened for business in Vero Beach in 2011. He claimed the Indian River Board of County Commissioners ordered the investigation after attempts to stop the clinic from opening failed.
"Police began pulling people over every day as they left the clinic and used those opportunities to search and seize" drugs, Aaronson said.
Investigators also created elaborate fake identities to pose as clients and were assisted by local pharmacies and doctors who created fake prescription histories and health records, the attorney added.
"All charges are because of undercover law enforcement efforts," Aaronson said. "There were never any complaints filed by clients.
"Investigators created this crime."
Aaronson repeatedly argued that the defendants are being denied due process because investigators engaged in illegal "subterfuge" and "lies."
He cited more than a dozen examples of incidents where undercover detectives visited clinics and used fake identification and documents – including fake addresses – to persuade clinic doctors to prescribe them the drugs requested. Undercover investigators also lied to clinic doctors about their ailments and levels of pain.
Aaronson also argued during the hearing that the defendants were victims of a misinformation campaign launched by large pharmaceutical companies that wanted to increase pill sales. Staff at clinics like the Stuart Pain Medical Center followed guidelines they were given in good faith, he said, and only later learned the guidelines that got them in trouble were written by the drug companies.
State Prosecuting Attorney Priscilla Prado, who said little during the hearing, did rebut some of Aaronson's claims. She pointed out that investigators discovered many incidents where visitors to the clinics, who were not undercover investigators, were repeatedly given drugs at cheap prices even though they lacked proper identification or documents.
She also alleged that in many cases the drugs were dispensed by staff members who were not doctors and had no medical background.
The Indian River County Sheriff's Office embarked on a year-long investigation of Stuart Pain Management Center in 2011. Those efforts led to an expanded investigation that targeted a complex web of doctors and clinics that extended from Miami to Pensacola and resulted in 14 widely publicized arrests in 2012.
The investigation was spearheaded by then Indian River County Sheriff's Detective Eric Flowers. During the course of the investigation, Flowers got search warrants for clinics outside of Indian River County and obtained permission to wiretap clinics being targeted. Flowers has since been promoted to major and now oversees the Indian River County Sheriff's bureau of administration.
In earlier motion, filed in the summer of 2017, lawyers for the defendants asked the court to suppress the evidence obtained by the search warrants and wiretapping based on the argument that Flowers did not have the authority to operate as a police officer outside of Indian River County.
Cox ruled in favor of the defendants in that instance, ordering the evidence be excluded, but that decision was overturned by the Fourth District Court of Appeals in July 2018. The appeals court ruled that Flowers' actions outside of his jurisdiction were admissible.
Prosecutors and law enforcement have long maintained that fraudulent pain management clinics, including the now closed Stuart Pain Management Center in Vero, broke the law by prescribing excessive and unnecessary pain killers.
Patients from as far away as the Midwest traveled to Florida for drugs like Oxycodone, while doctors and other healthcare professionals made millions of dollars off their patients' addiction and pain, prosecutors have said.
Prior to the hearing on Friday, defendants and their attorneys gathered in the public lobby outside Cox's courtroom were confident of success.
Several defendants and attorneys laughed loudly and high-fived each other as one attorney boasted that they were going to "kick Prado's (expletive)" in court. Several attorneys said the case would be dismissed by the time the hearing was over.
Aaronson mocked Prado during the hearing.
"Prado says she agrees with the facts of the case, but we say undercover offices lied; she says they gave 'false information,'" Aaronson told Cox. "I don't see the difference."
Prado responded by telling Cox that she and Aaronson were going to have to "agree to disagree."
"What he calls lies and subterfuge, I call good police work," Prado said.
Cox listened patiently for two hours as Aaronson presented his case for dismissal but eventually ruled the arguments were better suited for presentation at a jury trial. A trial date has not yet been set.
The judge did approve two other motions filed by attorneys for the defendants.
Vero Beach Attorney Brooke Butler asked Cox to intervene because St. Lucie County is billing her $500 to interview that county's medical examiner, who is a witness in the case.
Cox agreed that was inappropriate, noting that part of a medical examiner's job is to provide depositions and take the witness stand without charging a fee.
"I'm kind of dumbfounded," Cox said. "As a county examiner he's required to do things.  He is a witness and must appear in court. The county can't demand $500."
Cox also approved the defense's motion to obtain Brady material from the state involving a similar case currently pending.
Brady material is evidence that a prosecutor is required to disclose that could be favorable to the accused – facts that might negate a defendant's guilt, reduce a defendant's potential sentence, or impact the credibility of a witness.
Defense attorneys said they want to study the documents from the state case to see if the information can help bolster their strategy.