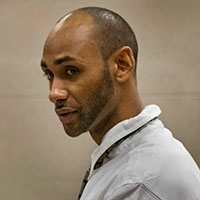 Man being retried for island murder gets a new lawyer
STORY BY FEDERICO MARTINEZ
Photo: Henry Lee Jones in court.

Murder suspect Henry Lee Jones, who in April decided to represent himself in his second murder trial, was back in court last week asking for legal assistance.
The case had not been going well for Jones, who was convicted of murdering a Central Beach resident in 2011 and later granted a new trial upon appeal.
But Jones earned a rare court victory last week, when Circuit Court Judge Cynthia Cox approved his request that all motions filed by him, and all evidence submitted by him since he began representing himself, be wiped from court records. She also agreed to appoint a new public defender to represent Jones as he reversed his earlier decision to act as his own lawyer.
Cox noted in her judgment on Dec. 20 that although it was Jones' decision to represent himself, it was also clear that he didn't know what he was doing in court. His actions were so detrimental to his own case that the court would be denying him a fair trial by allowing him to continue serving as his own counsel.
In her ruling, Cox wrote: "Anything entered by the defendant when he was acting pro se (as his own legal counsel) shall be deemed either moot or waived unless specifically adopted by the current attorney of record."
In 2014, Jones was convicted of first-degree murder and burglary. He received a life sentence for the killing of Brian Simpson during a 2011 burglary at the Central Beach resident's home. According to testimony at his trial, Jones shot Simpson through a bathroom door after he and an associate got caught burglarizing the Simpson family's Fiddlewood Road house.
Jones, now 30, was granted a second trial in 2017 after the fourth District Court of Appeals overturned his earlier conviction. Justices argued that a new trial was warranted because Jones' public defender was not allowed to question potential jurors about racial prejudice or bias. Jones is African-American. Simpson, 41 at the time of his death, was white.
In April, Jones requested a different lawyer. After Cox turned down his request, Jones decided to represent himself. His attempt did not go well.
Jones filed his latest motion on Dec. 17, asking the court to reconsider his request for a new court-appointed attorney.