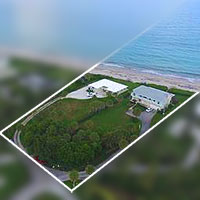 Unusual development opportunity on Shores oceanfront
STORY BY STEVEN M. THOMAS

An unusual development opportunity has popped up in a prime location in Indian River Shores, where a 1.83-acre oceanfront parcel has gone on the market for $4,990,000.
The 80,000-square-foot property, which stretches for 200 feet along the ocean and extends 400 feet inland, is large enough to permit one of the biggest houses on the island if a buyer wanted to build on a grand scale.
"We allow homes in that neighborhood to occupy up to 30 percent of the property," says Indian River Shores Building Official Rob Perry, which means a 24,000-square-foot house could conceivably be built on the site.
Right now, the property is divided into two lots, each with a modest-sized older home overlooking the beach, one built in the 1960s, one in the 1970s, but the owner has secured a permit from the Florida Department of Environmental Protection that allows the two lots to be combined. Perry says the Shores, too, would permit the lots to be replated as single property.
"It is a fantastic location," says real estate broker Beth Ann Rardin, who listed the parcel in October. "There is no HOA, you have Shores emergency services and it is close to everything." The property is a mile from the Village Shops and less than two miles from Vero's central beach shopping and dining district.
"For the right end-user, this can be an exceptional oceanfront paradise very close to town," says island developer Yane Zana, of Coastmark Companies. "It is a unique [opportunity] ... in that there are only a handful of remaining oceanfront properties that encompass 200 linear feet."
"For that location, with a very wide beach, the property is a reasonable value for someone who wants to build a large estate," says Treasure Coast Sotheby's broker Michael Thorpe.
Two recent oceanfront sales, one in 2016 and one in 2017, make the price indeed seem reasonable.
A similar-size, 1.72-acre property at 2310 Ocean Drive in Old Riomar, three miles south of Reef Lane, sold for $8,875,000 in May 2016. A year later, the 1.71-acre property next door at 2300 Ocean Drive sold for $7 million.
Oceanfront property prices typically are calculated by price per linear foot of oceanfront. By that metric, 2310 Ocean sold for $43,500 a foot and 2300 Ocean sold for $35,000 a foot.
At $4,990,000, the Reef Lane parcel is being offered for $25,000 per foot.
There are caveats to the comparison, of course.
Contrasting the Reef Lane and Ocean Drive properties, Zana says, "Old Riomar oceanfront is the most exclusive oceanfront property Vero Beach has to offer. [The location] is right in town and overlooks the reef and golf course. In Old Riomar proper, there are only six or seven properties on the ocean that will ultimately represent some of the largest and finest homes [on the island]."
Reef Lane also lacks the unique historical charm and architectural ambiance of Old Riomar, and many of the oceanfront properties near Rardin's listing are smaller, older homes. Their presence could make it harder for a buyer to justify spending $5 million for land and then investing millions more in a 15,000 or 20,000 square foot home.
Nevertheless, the Reef Lane offering would seem an interesting option for someone who wants a very large oceanfront lot and is willing to lead the way in an area renaissance.
"It is an excellent central location that has been overlooked that will catch up quickly," says Zana. "When you purchase 200 feet of oceanfront, you can create your Shangri-La and the homes next door no longer have to enter the equation."